Carol Watson (2nd right) in april 2002 with son Lee, next to him daughter Gaylene and right from Carol daughter Kishandra (†). 
Situated: Perth, Western-Australia.
Breeder: Carol Watson, assisted by family and friends.
Present shelties: 9, ranging in age from 11 years till 7 months.
World Breeder: For more than 30 years.
Reputation: Bred about 60 champions. All the shelties kept and made into champions (one
excepted) have at least one champion progeny. Many sable/white champions are
successful in Australia, Singapore, Canada and Europe.
Colours: Now concentrating on blues and tricolours.
Accommodation: All shelties living in the house.
Kishandra and Lee with Satan at the back and Pippa (7 weeks in whelp to Ch.Blazon of Callart) in the front.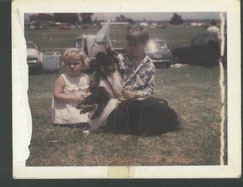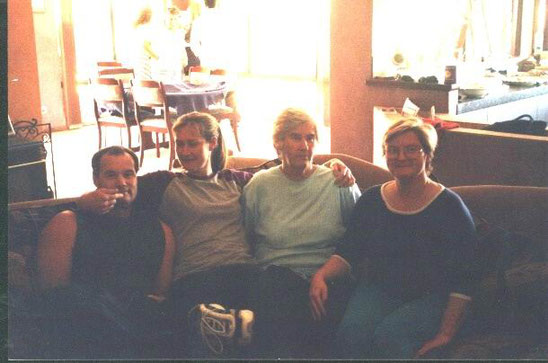 Tiakina is named after a ship in New-Zealand, where Carol was born. It's also a Maori word meaning 'on your guard'. Carol and her husband Les started their foundation with two tricolours, Ch. Tryme My Satisfaction and his sister Tryme Silk Glow. Satan and Pippa, as they were called, brought them their first successes. Because West Australia is such a long way from the Eastern States and they only wanted to use dogs that they could see for their selves, they developed several parallel lines which they could later line breed to. They chose to line breed because they thought it was the quickest way of setting type in their line. When choosing which dogs to put together they never considered colour. Therefore, if the best dog for the bitch was a sable/blue mating, that was what they did. They always chose a tri factored sable though. Some of their best coloured and broken blues have come from these matings.
They never excluded any dog from breeding (it was long before eye and hip testing) as they felt it was a matter of making right combinations. Of course they also made classical faults in the beginning. They kept for instance all four male puppies from their first litter because they thought they were perfect. But in fact none of them turned out to be show quality.
From left to right: Aus Ch Tiakina Dyed Tuxedo 'Kirby' (11). Again after a multiple best in show winning carreer, Kirby has certainly proved his worth as a sire and he still lives with Carol. Int Swiss Lux & Aus Ch Tiakina Tri Bfor Ya Buy 'Jordan', son of 'Kirby' and 'Rachel', now living in France with Veronique Hubert (Of Blue Tails). Ch Tiakina Tri Daddy's Style 'Rachel'.
Their first self bred sheltie of the type they aimed for was Ch. Tiakina Tia Maria. She was still winning Best in Shows at 11 years of age. She was what a Tiakina sheltie should look like: with sweetness of expression, with very good temperament and movement. Abundance of coat may not have been as good as it could have in the early days. At that moment Carol and Les could never suspect that 6 generations later a GGG grandson of this bitch ('Jordan', Tiakina Tri B'fore Ya Buy, now living in France with Veronique Hubert) would become multi-champion and would produce champion progeny all over the world.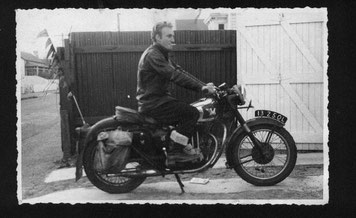 Les in the early days of Tiakina
Ch Tiakina Tia Maria, the first bred bitch of the type Les and Carol aimed for ( 8 weeks, 1975)
Carol, looking back, in what way shelties have changed in those 30 years?
Carol: "Compared to then shelties now have a lot more bone and coat and temperaments are much better. Movement has not improved as there are no longer breeders who have a reasonable number of dogs to carry on a breeding programme."   
After her husband Les died (in 2000) Carol concentrated on tri colours and blues. Keeping all colours on her own meant keeping more dogs than she could look after. Having met the challenge of breeding many sable and white champions, she decided to continue to do this with the much harder challenge of the blues. She's the only breeder in West Australia breeding blues. Many years ago blue merles in West Australia had big heavy ears and were not of a good type. Carol and Les decided that to improve the general type of the blues it was necessary to introduce sable lines, especially those which had the better ears and ear carriage. As there were no tricolours available to them, they used tri-factored sables. 
Carol: "Also thanks to those matings my lines carry clear silver blue. With the clear silver colour you do mostly get a lighter shade of tan, especially on the face. It gives the very soft expression that I love so much. Of course those matings can result into sable merles too. I think it's silly to prevent them. I never kept or bred with the sable merles but in all the years I've been breeding I never got one sable merle having health problems.
Many of the old time breeders maintained that to keep good colour you needed to put in a sable every fifth generation. Sable merles are not allowed to be shown here, but I do know of several Rough Collie champions who are sable merles. They have brown eyes, and once they have their adult coats they just look like sables. They can be very useful for breeding as there are times that they are the pick of the litter. Then you can put them to a tricolour dog and get blue merles – excellent coloured blue merles - once again. I have always selected the blue merles if they had the other qualities I was looking for. When I mate tricolours with blue merles I prefer to use tricolours from sable lines and not from blue lines."
A very succesful son of the blue merle/sable mating between Ch Tiakina Turquoise Tuxedo (blue merle) and Ch Tiakina Tip'Th Taxi Driver (sable).
Considering a mating the first thing Carol does is to decide what she wants to improve. Then she makes a list of all the males she knows that have that improvement, and hopefully his parents are good in that aspect and his progeny produced it as well. Carol is looking for an overall quality dog. So her priority is to produce a puppy as good as the parents. Carol: "To expect improvement in each generation I have found is is not possible. You gain one thing but you lose another."
Knowing how hard it is for beginning breeders to find good combinations, Carol advises them:
"Ask many questions of established breeders, listen to them all and then try to make up your own mind. If you make a mistake, you can learn from it, then after a while you can start to make some decisions yourself. Take your ideas to a mentor and ask her or his opinion of it. Watch respected judges in the ring and try to see the same virtues in the dogs they put up."
Breeding in Australia is much more liberal than in Holland, although there are rules too with respect to matings. Bitches may not be mated before they are 12 months old and they can only have 6 litters. After that one have to get a certificate from the vet to say the bitch is healthy enough to have another litter. There are no restrictions on what age a male has to be and he can sire as many litters as you like. Breeders however have the freedom to make their own choices regarding their dogs. Carol: "I like it that way. We learn from our mistakes and we develop our knowledge from the things we do. To have someone else be able to approve or disapprove does now allow new breeders to learn from their mistakes.
Of course there are some people who are not right to have dogs, but generally they do not stay in the breed very long, and only those with the good of our breed at heart keep on with their beloved shelties. I would not like to be told who I could mate to who, or who I could not mate to who. Nobody knows my lines as well as I do. I feel I am the guardian of my line and I will be responsible for whatever happens – good or bad. I did some very successful brother/sister, father/daughter and mother/son matings and I have never had any health problems."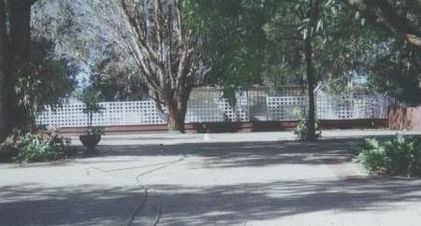 Backyard of Carols house. As it can be rather hot at this time of the year (december), Carols dogs prefer the airconditioned house.
Shelties are not that well known in West Australia, but people who have one say they would never have any other breed. Supply and demand are evenly balanced. Sables are the most popular, then tri colours, with blue merles being unheard by a lot of pet people. So it can be sometimes hard to place a blue puppy.  
Carol prefers to sell puppies she is not running on for herself as pets. It is her greatest concern that those puppies go to caring, loving homes, where they will not worry that he is good enough to win a ribbon. They must be loved for themselves, not their ability to win in the ring.
Puppies are much cheaper in Australia than in Holland. The average price is $A 450 (€ 306) for a pet and $A 550 (€ 335) for a puppy with show potential. This puppy has full registration papers. A pet puppy is either on the limited register or only has a copy of the pedigree from the breeder. A stud service is about $A 500 (€ 278).
Carol never sells on breeders terms. Puppies are mostly sold at the age of 8 weeks. Normally the breeders grades the puppies at 8 weeks and decides whether they have show potential or not. If a person is interested in a show puppy they buy that puppy outright. If it does not grow into a show dog then it's the decision of the owner what they do with the dog.
---
Carol, could you really see whether a puppy of 8 weeks old has got show potential? And how about sizes? Carol: "Many years ago I read an article by Alvin Grossman* in which he said that at 8 weeks a puppy is the closest to what it is going to be as an adult. I can assent to this. After 30 years breeding I can tell what my babies are going to turn out like. So ever since then I have made my decision at that age. Eye tests are done and testicles can be easily felt on a dog puppy."
(* Alvin Grossman currently serves on the Board of Directors of The Senior Conformation Judges Association. He also is the publisher of Doral Publishing, a leading publisher of Dog Books (a.o. 'Born to Win' from Patricia Craige). He is licensed by the American Kennel Club to judge all of the breeds in the Sporting (Gun Dog) Group.)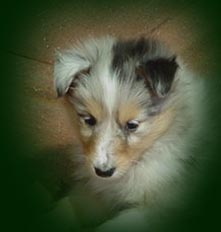 Claudia (Koniseur Klaudia Schiffer) as a puppy.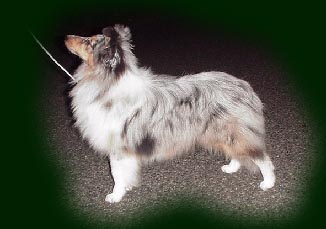 Claudia now. At the beginning of 2002 she became a champion.
"The pup I want to keep for breeding and showing is the one with the most positive aspects. Size is such a complicated issue and it's no good having dogs whose only attribute is that they conform to the ideal size. There is quite a variation allowable, and I find once again that if my puppy is within a certain size range at 8 weeks I know that he/she will finish up within the acceptable range. After a few years the lines you are working with are more consistent and very few puppies turn out to be too small or too big."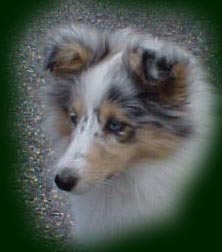 Shania as a baby (Carols puppy in waiting Tiakina To Remember Me By), named in memory to Les).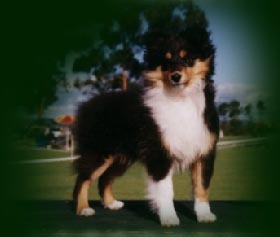 Regan (Aus Ch Touchd By An Angel) as a puppy. She is now 3,5 years old and will have her first litter soon.
At the moment the oldest sheltie is Kirby (11). Sometimes Carol thinks it's best to rehome an adult that has finished their show- and breeding carreer: "For some of them it's the best to be the only spoilt one than having to share with others at my place. I find this very hard to do because I love them all, but otherwise I finish up with too many and they would not get the attention they deserve. I am very fussy where mine go and ask lots of questions first. I keep in contact with the owners for as long as they want, and often when he/she dies they call me for another one. Most of mine live until 17 or 18 years old. 
In Australia the title of Champion is awarded to a dog or bitch which wins a total of 100 challenge points under a minimum of four judges. Carol and Les have been attending shows for more than 30 years (they bred 60 champions!).
Shelties have changed in those 30 years. Has judging too?
Carol: "Yes, definitely. I think nowadays there is much more emphasis put on grooming and presentation and not so much on the dog itself. Quite a few judges seem to be influenced by certain breeders telling them how good their dogs are, and do not use their intelligence to be true to their own interpretation of the standard. I have seen some truly terrible dogs win high awards, ones which I would not even have in my home."
The majority of shelties are of the English type but recently there have been several dogs imported from America. These are owned by high profile breeders who campaign them strenuously and so they have done very well in the ring, despite being so different and in Carols' opinion not complying to the English standard.
Carol: "The first generation from these dogs is quite young, so it's too early to judge how they are blending with the English lines. As we have mostly all breeds judges of which quite a few are from America, younger breeders are turning more towards this type of dogs."
In Holland we read about the poisoning of two shelties during a show. Fortunately one survived. It was quite exceptional, but it brought me to the question how breeders get along with each other. Not only during shows, but also with respect to matters that are in the interest of the breed. 
Carol: "This very nasty episode of poisoning is something I never heard of again, but some people do make enemies amongst other breeders. Not everybody is nice to each other and the younger exhibitors seem to be so competitive that they 'rubbish' other peoples dogs. Of course we all think our dogs are the best and should win, but competition brings out the worst in some people."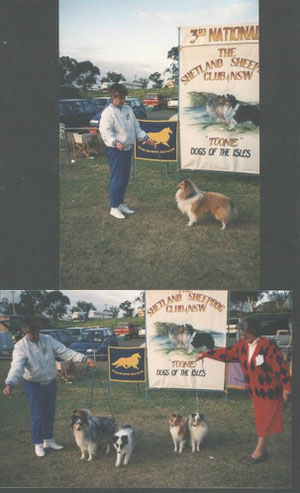 National 1992: Carol with Ch. Starflash Shantay Lou. Thereunder Carol and Barbara Phillips (Nigma) with the dogs they had there that year.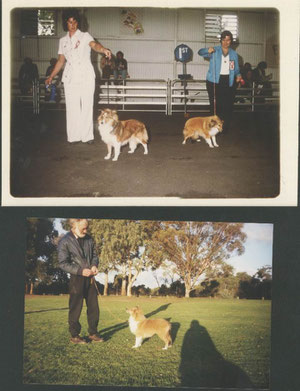 At the top Carol with Ch.Tiakina Tia Maria winning her very first show (11 months, 1977). The bottom photo Les with puppy Bronwyn (Ch.Tiakina Then He Kissed Me).
In general there is very little conversation between breeders regarding problems in the breed of their lines, unless they are working together. In fact, most things are kept secret or denied. The most common comment is 'I have never had that in my line' when you know very well that they have."  
CEA-
In Holland they advise people not to breed with CEA-affected dogs, unless it's in the interest of the breed (such as saving a line). In those cases it is permitted to breed with a mildly affected dog, if the other one is CEA-clear. In Australia seventy-five percent of the shelties is affected with CEA, with the others almost all carriers. Carol doesn't think it wise to exclude shelties from the breed because they have got CEA.
Carol: "First of all I must say that I do not understand why this is considered to be of such importance to the breed, that in some cases a dog is not considered suitable for breeding, when the rest of him is superb. And that, only because he has a small defect in his eye which causes no loss of vision. CEA is almost endemic in the breed here. I would not give priority to breeding only for clear eyes, as I think there are much more important genetic problems to deal with first. I would not breed with a dog with distichiasis (ingrown eyelashes) as these cause so much pain and discomfort to the dog, whereas mild CEA causes no vision problems and will not get worse. It has been found that in some lines the pigment migrates very early and that by 8 weeks they show clear, whereas if they were done at 6 weeks they would show affected. I myself have a blue at the moment that the vet wanted to give a clear certificate too, but as both his parents are mildly affected I said this was impossible. Very few breeders here seem to be concerned with producing CEA clear stock, but most check their puppies so that they can choose which one they will keep for breeding and/or showing. Some do not care at all and never get eyes checked. I have only done so for 10 years and have found that each one who is clear has either an affected parent or has produced an affected puppy. As long as these dogs have only mild CEA I am happy. I have not found any escalation of the degree it is appearing." 
---
Hips -
Only a few breeders x-ray hips. Carol thinks that, again with the carrier status, it is not possible to clear this from the breed. However, it doesn't seem to be a problem. Carol: "Personally I don't x-ray and my dogs are still running and jumping at 13 years old."    
Teeth -
Carol never had problems with missing teeth. However, she was informed recently that a puppy,  sired by one of her dogs, did have a missing pre-molar. That surprised her, because she has line-bred and in-bred and she would have thought if it was a problem in her line she would have had it appear. So it's important to find out the source of the problem.    
Carol is very realistic about the future of Tiakina. She sees Tiakina shelties becoming less and less prominent in the ring as she is not able to show so much anymore.

Carol: "Unless you are there, winning week after week, people forget about your dogs and only want to buy from those that are winning. They do not seem to do their 'homework' and newer breeders do not seem to be at all interested in the history of our breed, only how they can win in the ring.


Becky (Tiakina The Black By Jack),
one of Carols' promisful youngsters. ‣‣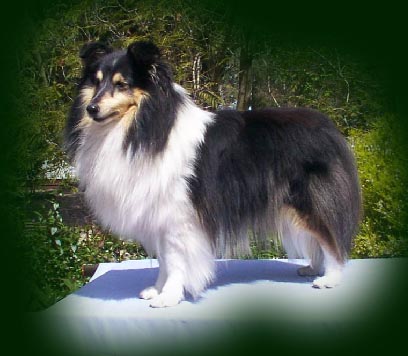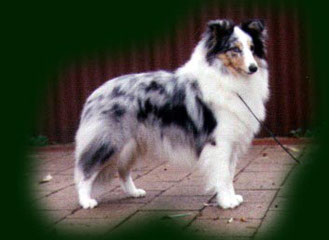 Lacey (Tiakina Traced In Lace), another hope for the future
 

I find I have less and less enthusiasm for showing as time goes on. Things have definitely changed in the last 30 years, but then I guess that's what the established breeders were saying when Les and I started off. You can't stop the progress and although I don't like the way things are going there is nothing I can do to stop it."

In the nearest future Carol will continue breeding with her promising youngsters, a.o. Regan, Becky, Lacey and Claudia.  
Thank you Carol, for having enabled me to make this lovely world breeders' portrait. Ineke.