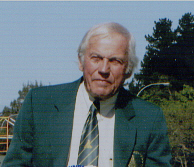 Situated in Henley on Klip, Gauteng, South Africa. They own four dogs and three bitches at the moment. They are world breeders for more than 50 years. They bred more than 30 champions in the U.K. and South Africa. They are worldwide very respected judges (all breeds). They breed shelties in sable and white, blue merle and tri color.
MAURICE: "The early period of Ellendale was simply getting to know the breed and trying to establish the kennel. Also my first judging appointments. Jim Saunders (HELENSDALE) never minded me taking out the prefix ELLENDALE. Ch Ellendale Prim of Plovern came close to what I wanted.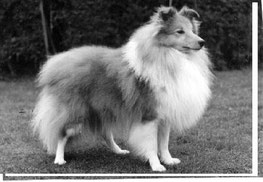 She did a lot of winning including a Reserve Best in Show under the great Joe Braddon. Later Ch Marksman of Ellendale also came very close and he was a great sire. Also Ellendale Ettienne, a CC and Junior Warrant winner who later went to Australia and gained his title there. If  Sheila had been with me then I would never have let him go."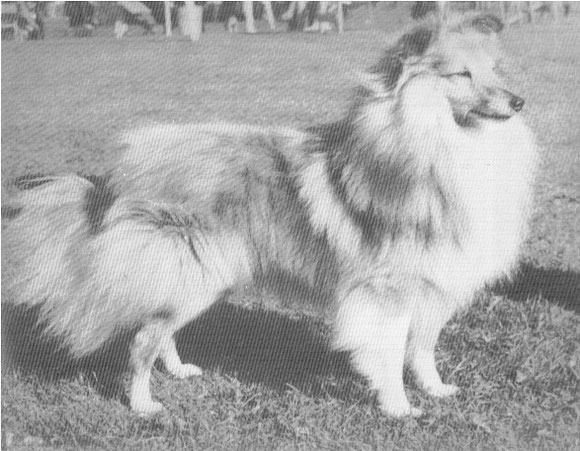 Troubleshouter of Shemaur
In 1954 Maurice Baker founded the ELLENDALE kennel. Sheila started the SHEMAUR kennel in 1968. The two of them met when Sheila was Editor of the English Shetland Sheepdog Club Handbook. Doing some research for the Charts she contacted Maurice. Their common love for Shelties was by then established as they had both been breeding for some years, and they met frequently at dog shows, Maurice living in Yorkshire and Sheila in Essex. They joined forces in 1979 and decided to use the kennel name SHEMAUR. The name SHEMAUR was originally a combination of  Sheila and Maureen – a friend of Sheila with whom she started the kennel in 1968. Sadly her friend Maureen died suddenly in 1974 and the kennel name became solely hers. As it is also a combination of Sheila and Maurice it seemed appropriate to adopt that as their joint kennel name when they married.
Troubleshooter and his sister Sweet Charity of Shemaur are behind all the dogs Sheila and Maurice have today.
At that time - the 1970s - there were many lovely Shelties. Amongst those Sheila admired most were Ch Monkswood Mosstrooper and his son Ch Mistmere Marching Orders, Ch Midnitesun Justin Time and Ch Riverhill Richman who she used.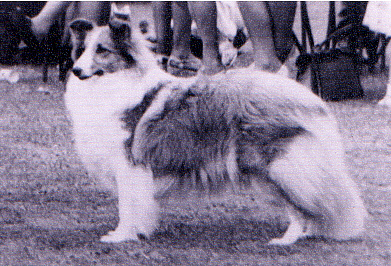 Ch Ellendale Prim of Plovern
She sent a dog from the litter (Shemaur Sand Dollar) to South Africa – this dog is also behind their present dogs. In bitches Sheila thinks her favourite to be Ch She's My Fancy of Shelert.

Maurice founded his kennel with a bitch from Jim Saunders, Edana of Ellendale, sired by Helensdale Frolic. Later there was Ch Ellendale Prim of Plovern. Maurice thinks at that time his favourite Sheltie would be Ch Alasdair of Tintobank, a son of Ch Helensdale Ace. Later he was very fond of Ch Greenscrees Swordsman.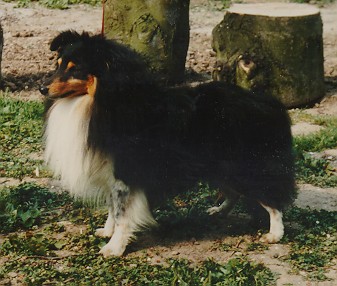 SHEILA: "Troubleshooter of Shemaur was a lovely dog of correct size, lovely expression, but unfortunately not a very good showman – he never really enjoyed shows. The first SHEMAUR that I really felt was what I was looking for was Ch Shemaur Noel Edmonds, a tricolour sired by Ch Midnitesun Justin Time out of Shemaur Midnight  Melody, whose mother was Sweet Charity of Shemaur. Noel was a very sound dog, excellent conformation, everything in proportion and just the right amount of bone. He also had a most endearing temperament.
Shelties were very popular and drew huge entries at shows. There were a lot of very dedicated breeders then, and I think we both agree that in our early days  RIVERHILL was the leading kennel – they kept a small number of dogs but were very clever breeders producing a lovely type consistently.  The much larger SHELERT kennel also consistently produced top winners. Other kennels that we both admired were MIDNITESUN, FELTHORN, MONKSWOOD and RODHILL. We had contacts with Scandinavia firstly because Maurice went there quite a lot on business and we got to know the Sheltie folk. Maurice judged the Norwegian Sheltie Club show at Grefson in 1972. We also judged in Scandinavia and Europe and made many friends there, friendships which are still strong today and even though we now live in South Africa we visit Scandinavia regularly for judging appointments, mostly Norway and Finland."
Ch Marksman of Ellendale

Ellendale had a great influence on the breed, not only in the U.K. but also a.o. in Scandinavia. One of the most successful Ellendale was GB Ch Marksman of Ellendale. I asked Maurice to describe this successful sheltie for me.
MAURICE: "Marksman was a golden sable of correct size, with a lovely head and expression which he passed on to his progeny. He did a lot of winning including a number of Best in Show awards. One of his best sons was Ch Sulasgeir Talamba of Shemaur, who was Best in Show in an entry of 548 at the English Shetland Sheepdog Club Championship Show under judge Miss Olwen Gwynne Jones. Amongst his best daughters was Ch Solveig of Snabswood, owned by Ron and Jean Fitzsimons. Marksman puppies were easily recognised in the show ring."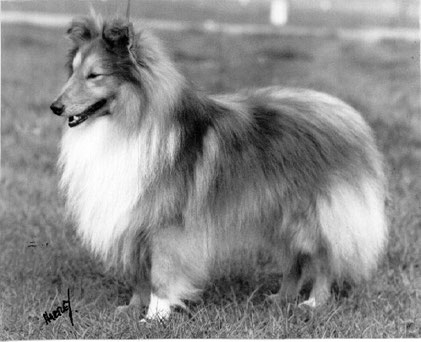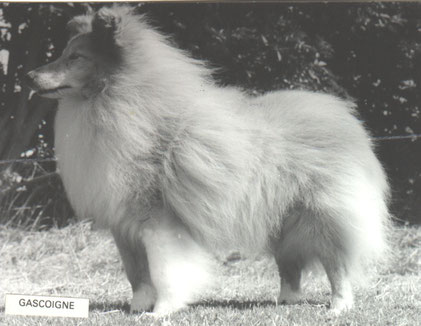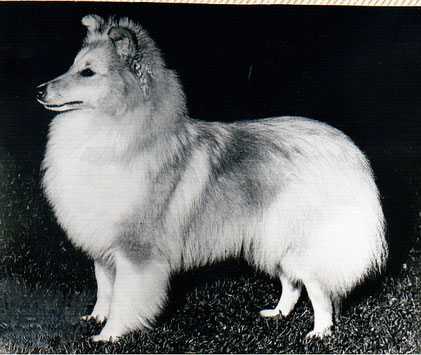 Left Ch Sulasgeir Talamba of Shemaur and above Ch Solveig of Snabswood
In 1989 Sheila and Maurice moved to South Africa. I asked Sheila and Maurice for their reasons to emigrate and the things that preceded. 
SHEILA: "In 1985 Maurice was invited to judge in South Africa. He was very impressed with the country, the lifestyle, climate and the friendly, though small dog scene. In 1988 we were both invited to judge there, and as I was also impressed with the country we made the decision to move there. Maurice had by then taken early retirement and to retire to a life in the sun appealed to us, a decision we have never regretted. We took six Shelties, one Chinese Crested and our old cat with us. The move was quite a big ordeal, but as there is no quarantine here the dogs settled in very happily. Their ages ranged from 12 (Ch Marksman of Ellendale) down to 6 months (a blue puppy).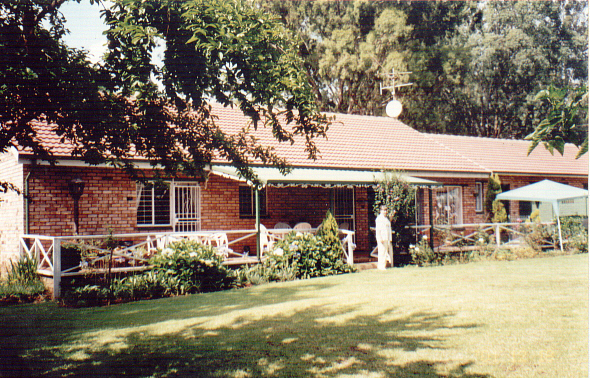 South Africa has fulfilled all our expectations. We have lots of good friends in many different breeds, and also friends not involved in dogs, and enjoy participating in the dog scene, not only showing and judging dogs, but also serving on various committees. Maurice is Chairman of Sasolburg Kennel Club (All Breeds), Chairman of the Gauteng Judges Training Committee and  member of the National Judges Committee. We and our dogs were well received and although the Sheltie population is small here, the Sheltie breeders work well together and are a friendly group. The only  problem we had when we moved to SA (a huge country) was finding exactly the right place for us to live, which we did eventually and now live in a small English type village with no restrictions on keeping dogs, called Henley on Klip, where there are several dog breeders which makes for a nice community spirit – as a group we are known as 'The Village People' in the dog world.
We have one acre of land, two thirds of which is natural woodland, and our village has all the usual Pubs, restaurants, Post Office, shops, Bowling Club, library etc. It is also much associated with the arts and education, having several artists, glass workers etc., a thriving Performing Arts Society and several good schools. Including one at present being built and funded by Oprah Winfrey – it is a boarding school for especially gifted girls and when the foundations were laid our village proudly hosted Nelson Mandela and Oprah to lay the foundation stone."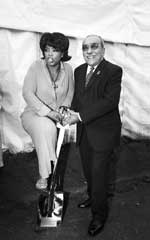 The Transvaal is one Province (the largest and most active in the dog world). After the elections in 1994 the name was simply changed to Gauteng.

Sheila and Maurice live in Gauteng in an area known as the Vaal Triangle, an area enclosed by three rivers including the Vaal River, a tributary of which runs through their village.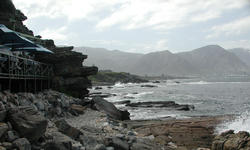 SHEILA: "There were already a few Sheltie breeders in South Africa, including the TAWMONT kennels of Irene Leenders from the UK, and they welcomed us and our dogs who added substantially to the small gene pool here. We had both exported dogs to South Africa in the past and so the bloodlines (particularly down from Troubleshooter) were already established here. About a year after we arrived we bought a dog who had quite a lot of SHEMAUR breeding, having several lines to Troubleshooter of Shemaur and Shemaur Sand Dollar, and would suit our bitches well.

He was Ch Koihai Make A Wish of Shemaur and he turned out to be a spectacular dog. He was a real record-breaker and the most consistent winner in South African dogdom. He had over 100 Best of Breeds, countless Group wins, was Top Herding Dog for 4 years running and in the top 3 All Breeds Winners. He also won  two of the top Special Events here "Champion of Champions" and "Supreme Champion" (a competition open only to All Breeds Best in Show Winners).  He sired 4 champions and is still having  a great influence on the breed through his sons, daughters and grandchildren."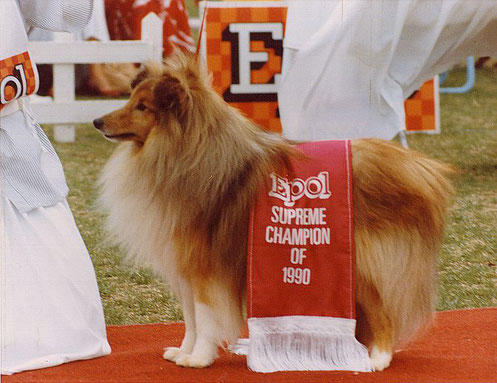 Ch Koihai Make A Wish of Shemaur
 This photo shows him winning the title "Supreme Champion" – the winner of a competition for all Best in Show winners of the year.
---
At present Sheila and Maurice have four champion dogs (two sables, one blue and one tricolour), two champion bitches and one puppy bitch of 9 months (all sable). Their sable Ch Sibelius of Shemaur is currently top winning Sheltie – he has just completed a hat trick of Best in Show wins at the Sheltie Club shows and now has 6 Best in Show awards to his credit.
His daughter Shemaur I'm No Angel is top winning Sheltie Puppy, and at 9 months has already won six CCs. In the 16 years Sheila and Maurice have been in South Africa they have made up 21 Sheltie champions, most of them home bred.
How about showing in South Africa?

SHEILA: "Being such a large country we often travel up to 12 hours to attend dog shows. We have superb roads and not too much traffic so driving is not a problem. If we are judging in another province (Natal or Cape) we usually fly but when showing dogs it's not practical to fly with the  equipment  we have to take -  gazebos because of the hot sun, grooming table etc. All our shows are held outdoors and it can be very hot in high Summer – in fact there are no championship shows at the height of summer, November to February."

Other dogs that are joining their household today are two Pomeranians – their retired dog Ch Xantah Matchmeifyoucan, and a newly imported black Pom from the Philippines – he is 9 months old, Canton Black Charmer of Shemaur. Sheila and Maurice have two cats of unknown ancestry, an old lady called  Florence (now 15) and a young tortoiseshell called Saffron. The cat they brought with them to South Africa (Abigail) died aged 20, which shows that cats have an enjoyable life there! Their Poms carry the prefix SHEMAUR, and when they had the Cresteds they bred two litters that carried their prefix (two of which became champions).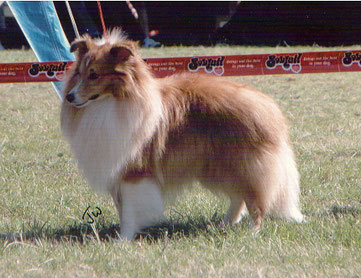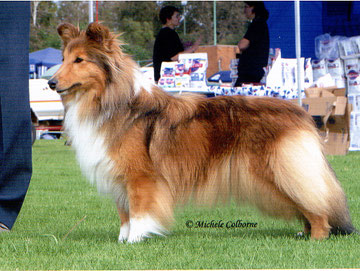 Ch Sibelius of Shemaur and Ch Cockleroys Cinderella of Shemaur
Back to the shelties. Nowadays Sheila and Maurice breed only one or two litters a year and expect both their adult bitches to come into season in the next few months – they will mate one or both depending on timing, judging appointments etc. as they won't leave puppies alone or with their 'maid/dog sitter' Maggie, who moves into the house to look after the dogs when they are away. Maggie is excellent and the dogs love her, but they don't trust anyone with their puppies as they feel they are their sole responsibility.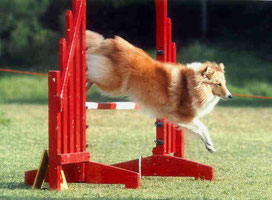 Dog sports are very popular in South Africa. All the disciplines – Obedience, Agility, Dog Jumping, Flyball and Dog Carting are being practiced. This year, for the second year running the South African Agility team won the World Championships in Spain competing against a field of 32 nations. The Sheltie Club holds an Obedience/Agility show every year and it is well supported by other breeds as well as Shelties. One bitch which Sheila and Maurice bred, Ch Shemaur Sugar Bush, gained her breed title and is now training in Obedience and Agility with her owner Yvonne Zweigler in Port Elizabeth.
Breeders' vision
Sheila and Maurice have so many experience in breeding that I love to learn more about their breeders' vision.
SHEILA: "Sheltie breeding is not an exact science, more an art. Over the years I've bred mainly by instinct, and looking at as many litters as I can to judge what different dogs produce to various bitches. Breeding top quality Shelties is not easy – they must be one of the most difficult breeds to predict and we feel fortunate if we have one really top class Sheltie in a litter. One can research for hours, looking into the background of the dogs on sire and dams pedigree and think you have the perfect match, then the litter arrives and can be disappointing. What I aim to do is cut down the odds as much as possible.

I've found that the best breeding is fairly close line breeding for three or four generations, then introduce a little new blood. By close line breeding I mean grandfather/granddaughter, uncle/niece, even half brother and sister if there is nothing nasty lurking in the background. 
Complete outcrossing often produces oversized puppies, however perfect both parents. I would never breed with Shelties with PRA in their lines, hereditary defects such as misplaced canines, nor with bad constructional faults, in fact not with any Sheltie (dog or bitch) that wasn't a good typical example of the breed. Close breeding tends to keep the size down, so I would consider using a dog or bitch that was oversized if size was the only thing I didn't like.
I think the importance of the bitch is sometimes overlooked – the dam contributes as much, sometimes more, to the offspring as does the sire. Virtues are all important and one should try mate a dog and bitch with as many common virtues as possible, and hopefully no common faults. This isn't easy, especially in a country like ours where the gene pool is relatively small. I don't like to mate tricolour to tricolour too often as this seems to soften the coat, the use of sable/tri matings does seem to improve the texture of coat in blue and tri lines. I know there is a line of thought that blue/tri lines should be kept pure without sable blood, but I strongly disagree with that. One of the best tricolours I had was Ch Shemaur Noel Edmonds, who was bred from two sables and he and his descendants are continuing to produce lovely merles and tricolours.

People tend to think they can put a mediocre bitch to the top winning dog and he will correct all the faults – this doesn't happen. The chances of getting only the good points from each parent are about as much as throwing up a handful of dice and they all land on sixes! I remember the famous story about a conversation George Bernard Shaw had with a beautiful actress. She said "Just think of the wonderful children we could have with my looks and your brains" to which he replied "Yes, but what a disaster if they inherited my looks and your brains"!
 
Although Sheila and Maurice are dedicated to shelties they also take a keen interest in other breeds.
SHEILA: "As our shows accommodate all breeds on one day, we get to see all the different breeds. I have always admired Toy breeds and had a Chinese Crested when we lived in England. She came with us and quickly became a champion. To date I am the only person in South Africa to have won a Best in Show with a Chinese Crested dog. Unfortunately there were so few of the breed here that we couldn't carry on with such a small gene pool, although Louise (our original Crested) did breed two champions. Because of the Toy connection I was asked to run a show for the Toy Dog Breeders Association as their Secretary was away on business. This was 15 years ago, and I still have the job!! After the last Crested died I decided to get a Pomeranian as I was so involved in Toys. I bought a lovely bitch (Ch Xantah Madam Macushla of Shemaur) who became a champion and a Best in Show winner. Unfortunately she turned out to be sterile and so I then bought a dog who also became a champion and had Group placings. He is now retired and I have a new Pom from the Philippines – he has just arrived and I'm delighted with him. Hopefully he'll do well in the show ring next year."

MAURICE: "I was involved with Wire Fox Terriers, Scotties, Chow Chows and Rough Collies before I had Shelties."

The book 
Maurice, your book 'Shetland Sheepdogs Today' is a classic. First published in 1988, when you were still in the U.K. Could you please tell me how it all started and worked out?     
MAURICE: "I had it in mind to write a book for some time and during a 4 months wait for a hospital bed in 1987 I wrote the book. English was always my top subject at school. I am in the process of writing another book but as yet have not got a publisher."
From Shetland Sheepdogs today then to Shetland sheepdogs in 2005. In the 17 years that have passed since the first edition of the book shelties have changed. What do you consider to be the most significant changes?
MAURICE: "I think we have too many stuffy Shelties – not enough elegance. Today there seems too much emphasis on coat and not enough on shape, neck and outline. Everywhere I judge I find some of the correct type and at the English Shetland Sheepdog Club 90th Anniversary in 2004 a great number of the correct type. I have never had the so-called 'American type' shown under me. Miss Olwen Gwynne Jones, whose opinion I have always valued, said to me that she felt Ch Helensdale Ace was so outstanding he could come back into the ring now and still win. I don't think the Kennel Club did the breed a favour when they reduced the standard, e.g. leaving out things like 'lithe and graceful'. One could by no means describe the American type as that!"
SHEILA: "Although I still see many Shelties which I feel really fit the standard well, many seem to have lost the desired shape – big coats, short necks and no elegance. On the plus side, I think temperaments have improved enormously – we rarely see a nervous Sheltie nowadays. One of the reasons for these 'new style' Shelties is that we have lost so  many of the old dedicated breeders. New kennels seem to be coming into the breed all the time, many lasting for a very short time. The aim seems to be winning with whatever is the latest fashion – so many of our specialist judges are no longer with us and many judges are from other breeds, or all-rounders, some of whom look for glamour and forget the basics. I'm afraid I sound like an 'old timer' always harping back to the 'good old days', so be it, but I maintain that the heyday for Shelties was in the 1970s and 1980s."
There is a tendency in Europe to bring in American shelties. One of the arguments is better bone/construction. How do you think about this and about the influence of this on the longer term?
SHEILA: "This question brings me an opportunity to get on my soap box! Because I am passionate about my breed, and retaining breed type, I am wholeheartedly against mixing American breeding with the country of origin, UK, breeding, and I believe American bloodlines can contribute nothing of  advantage to our Shelties. Do we really want Shelties with very heavy bone – heavy bone on the legs will be echoed through the whole dog bringing coarse skulls, deep and heavy forefaces etc. leading to the loss of that essential Sheltie expression. Everything must be in balance and Shelties must be able to move at speed, make quick tight turns which would be impossible with some of the American type dogs I have seen, and no way could they be described as lithe and graceful!

When we first came to South Africa there were  a couple of American imports – they did no big winning and didn't breed successfully with the UK lines here, so thankfully we have had no more since. I fear that what has happened to a lot of British breeds at the hands of the Americans is in danger of happening to our breed if we continue to bring in American  blood. Take the Cocker Spaniel – an old traditional UK breed – they went to America from England and over the years have changed so much there that they have been separated into two breeds – the  American Cocker Spaniel (a very glamorous dog with a completely changed head and a massive coat) and the Cocker Spaniel, so different now as to be a  separate breed, and  in the USA they call the original cocker the 'English Cocker Spaniel' and the American version is known as simply the 'Cocker Spaniel'. In the rest of the world the original breed is called the 'Cocker Spaniel' and the new style called the 'American Cocker Spaniel'. Judging around the world I see the same thing happening to English Springer Spaniels – they have lost their English type in America, even down to breeding out the typical flecking on legs and feet. The Border Collie is also changing, though I'm not blaming this on the Americans. In several countries where I have judged them I have seen two types, the original Border Collie, and the new-style dog which is bigger, has a huge coat and is moved holding the head up instead of the typical Border movement with head forward. These over-sized, big coated Borders could not do the work they were intended to do, and look more like small Rough Collies than Borders! A Border Collie can be a show dog and still work, as was proved to me when I gave one a Group in Australia – his owner told me he was working sheep the day before but he came into the ring looking a million dollars."

MAURICE: "I really don't think the American type Sheltie has anything to give to the correct type of British Sheltie. The correct type of Sheltie with the correct conformation and balance can still be found. Sheila's Best of Breed in Sydney last year was ideal, as was also my Best of Breed this June in Norway, a blue merle bitch of absolutely correct type."
Maurice started judging in 1960 and Sheila in 1974. They both started judging Shelties, then gradually built up qualifications to judge other breeds, and are both now qualified to judge all breeds.

Maurice has just judged his 154th Best in Show, and was proud to have been included in Mike  Stockman's  'A'  team to judge at the Crufts Centenary Show in 1991.
Both of you love judging. Please tell me about the pleasure it brings you and the things you have to deal with.
SHEILA: "Judging in South Africa one tends to know nearly all of the exhibitors and their dogs as it is such a small dog scene. It's lovely to judge in new countries where all the dogs and exhibitors are strangers, and to see dogs of outstanding quality in breeds which may not be so strong in one's own country.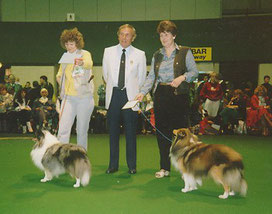 Crufts Centenary Show 1991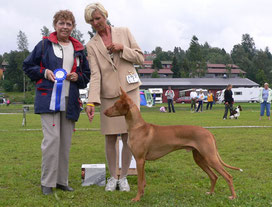 One of the nicest things about judging overseas is meeting so many new people from all walks of life and making new friends.
It's always exciting to get a schedule and read who will be judging alongside you, often judges you have met before on the other side of the world. The hospitality in the various countries is usually excellent and it's so interesting to see how people in other parts of the world live. The down side is the travelling – long flights are tedious and  waiting at airports usually tedious. Top of my list for airport comfort is Hong Kong, and the bottom one is Paris."

MAURICE: "I've judged in about 20 different countries over the years and have good memories, and some not so good. It's lovely to run across outstanding dogs in different breeds but of course it doesn't always happen. As Sheila says the down side is the travelling. I've been flying since I was 17 years old in the Air Cadets and love flying, but sometimes it gets a bit much. Another downside is if the panel of judges do not gel, that can also happen. Our last trip to Norway was so good because the judges were so compatible. One of the best trips we had was to America for the AKC Classic in Florida – we flew business class – what a pleasure!"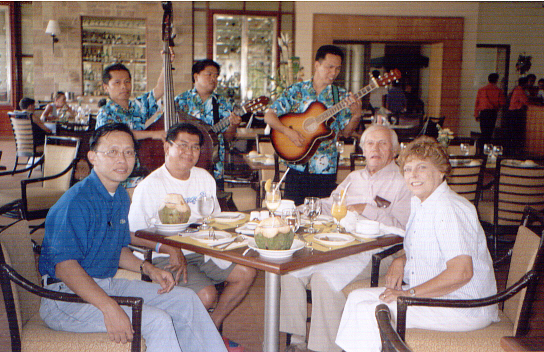 Sheila and Maurice having lunch with the Chairman (Bernie) and PRO (Jojo) of the Philippines Canine Club.
What goes through your mind while judging? Are you first looking for type, head, expression, movement or overall balance? In other words, what makes a sheltie a potential winner to you?
MAURICE: "I must have type first and foremost but I am more of a head person than Sheila. It took a long time to get the correct head and expression on a Sheltie, thankfully people like the Misses Rogers and James Saunders pioneered it and it really is the essence of the breed. When I see people putting up long heads, big round eyes, long backs etc. I shudder!"
SHEILA: "When the dogs enter the ring the first impression is of outline, balance and movement. It's important when the dog is standing on the table to stand well back and get a good look at the overall balance and symmetry of the dog. Then the examination – head and expression are very important – that special something a Sheltie has that is unique, a mixture of sweetness, alertness and softness all combined. I'm also looking for a free and easy mover with a good stride and 'daisy cutting' action. In judging any breed it's important not to lose sight of the job a dog is built for – Herding dogs must be able to move, turn quickly and respond to their handler. Toy dogs are made to look beautiful but must be healthy companions and so conformation is also important there, Terriers should never be shy or timid, and so on."
I asked Sheila and Maurice if they can remember the very first time they  judged.

SHEILA: 'It was at an Open Show, 4 classes of Shelties in Chelmsford, Essex. I remember I was very nervous. The show was held in a village hall  and prior to judging all the  judges were sitting on the stage – the late Harry Jordan was on the panel and I remember he calmed me down, told me not to worry and actually held my hand! I didn't remember judging the first two or three dogs, but after that I got so engrossed in the dogs and comparing them that I forgot my nerves and just enjoyed it. My Best of Breed that day was the late Mrs Goodwin's Hildlane Minstrel Knight, a tricolour who later became a champion. Since then I've always enjoyed my judging, especially finding a real 'star' of a dog that I haven't seen before, then watching the dogs progressive show career."

MAURICE: "My first time judging Shelties was on New Years Day in 1960 at the Northumberland New Years Day Open Show. I had 48 Shelties and gave Bill and Rita Henry's Greenscrees Swordsman Best of Breed and predicted he would become a champion – he lived up to my expectations."
What is the funniest thing ever happened at a show?
SHEILA: "Lots of comical things happen at shows – I remember at one show a Policewoman came into the ring, seemed to be arresting the judge, then sang 'Happy Birthday' to him – some friends had hired a Singing Telegram for his birthday. Another amusing incident happened to me in Australia. I was judging Dogues de Bordeaux when a lady came into the ring and spoke to her dog in French – she turned to me and said "He doesn't understand English, he's just been imported" – some exhibitors will think of any way to influence the judge and make the one think their dog is special – and they think we don't know what they are doing!! I always like to say something to the dog when going over him, just to make him feel at ease. On approaching a Rottweiler I said to the dog "Hello big boy" to which the rather dishy male handler winked at me and replied "Hello ma'am"."


MAURICE: "I was judging Rottweilers in Norway and I said as always "what age Madam?" and the lady handler fluttered her eyelashes and said "Twenty three"."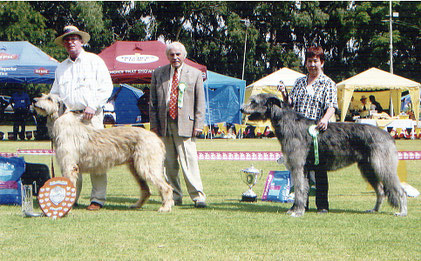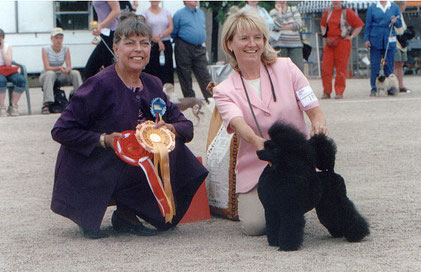 Looking back, have judging/shows changed during the years? 
SHEILA: "I think over the years the standard of presentation has improved overall. Shows have become much more efficiently run with the use of computer programmes, internet entries etc. and I think the exhibitors are more competitive now. I dislike the current trend of people rubbishing other people's dogs, criticizing judges, their fellow breeders etc. on the various websites.  
I'm impressed by the fact that so many young people seem to be involved in the running of shows in Scandinavia, it's important for the future of dogdom that there are youngsters to take over from us 'oldies'. Unfortunately we lack the involvement of young people here – they seem to enter in the Junior Handler classes, then drop out. It's very difficult to find anyone of the younger generation willing to work on committees."
MAURICE: "I think we saw the very best of British dogdom in the 1970s and and 1980s, lots of lovely people, excellent shows, good dogs and great sportsmanship. I feel the various points systems (dogs getting points for wins, awards for top winning dogs in each breed, group etc.) that seem to be growing around the world have not been good for dogs – exhibitors chasing what we call 'petrol points'. It has led to bad sportsmanship and people forgetting why dog shows were started in the first place – to improve the quality of the pedigree dog."
SHEILA: "I haven't seen many of the current English dogs. These are in no particular order, but last year in Australia I judged one of the best Shelties I've seen – only 11 months at the time - and I would  love to own her. She is a tricolour owned by Deidre Crofts – 11 month old tricolour Deerod Charmed I'm Sure. She was a lovely size and shape, beautiful head and a lovely expression. She went on to win Best Puppy in Show.
Int Ch Blue Hopes And Dreams of Silver Shadow, and Ch Felthorn Our Kate, two more exquisite bitches, both blue and as near the standard as one could hope for.
A male that I admired was the Finnish dog Fin/Est/Latvian Ch Bermarks William, a shaded sable, with a real Sheltie expression, so well balanced and of correct size, his coat fitted him perfectly."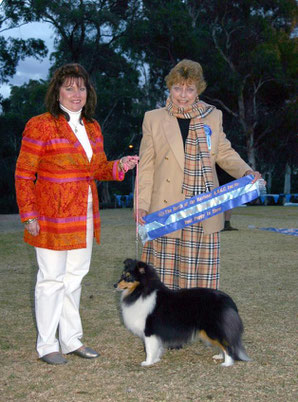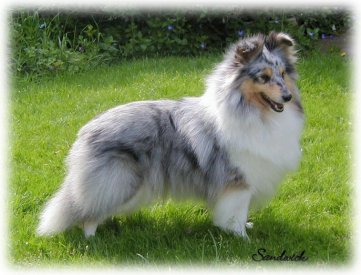 Left Deerod Charmed I'm sure and above Int Ch Blue Hopes And Dreams of Silver Shadow
MAURICE: "Like Sheila I haven't seen many of the current English dogs but I did like Ch Morestyle Monsoon and always had a soft spot for Ch Felthorn Our Kate. This year in Norway I made a lovely blue merle bitch Best of Breed and Reserve Best in Show – she was 7 years old but certainly didn't look her age. She was NUCH NV04 Roikies Blue Ginnie."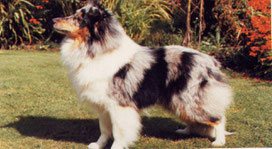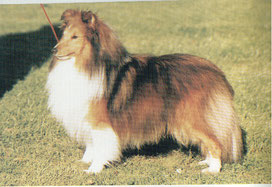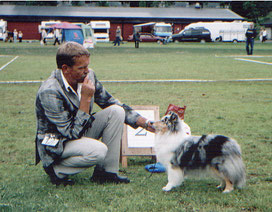 As the past is of great influence on the presence and the future, I would like to start with this question: looking back on so many years of breeding, what would you do the same, what certainly not?
SHEILA: "I can't think of anything in particular that I would do differently. Maybe I would start learning about other breeds earlier than I did as it gives me so much pleasure judging different breeds and getting to know the breeders and understanding the appeal of different breeds to different people."
MAURICE: "My early dogs were Wire Fox Terriers, Scotties, Chow Chows and Rough Collies and I sometimes wish I had tried to keep in one of these breeds as well as Shelties. One thing I should have done was use the Riverhill dogs more – they really were outstanding and bred so true to type."

What about your plans for the future?
SHEILA AND MAURICE: "To carry on enjoying our dogs as long as possible. As one gets older obviously the keeping of new puppies becomes a worry. Shelties are so long lived there is always the problem of them outliving you, but we will still breed and hopefully some other exhibitors will get the pleasure of showing our dogs and carrying on our lines."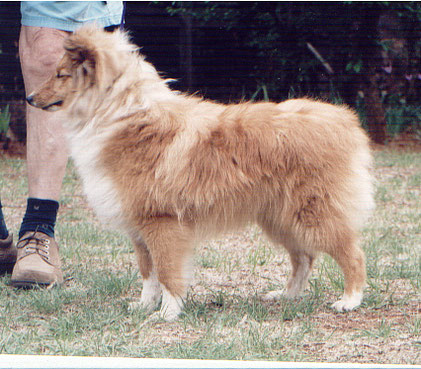 Ch Shemaur I'm No Fool, photo taken at twelve months
MAURICE: "I think back over the many Shelties I have been involved with, among them Ch Hillacre Heavenly Blue, so aptly named. I gave her Best of Breed at the Australian Sheltie National in 1994 in a huge entry. Another bitch I loved was Felthorn Moonbeam, a tricolour bitch. I could never understand how she didn't get her title. I also loved Ch Moonlight Madonna, a sable and white in Sweden. Our own Ch Shemaur Tuesday's Child was technically our best ever Sheltie bitch. All the overseas judges wanted her.
About the Shemaurs of tomorrow: what are your young hopefuls?
SHEILA AND MAURICE: "We have a very nice young bitch at the moment, sable and white 10 months old and already has won 6 CCs, one Puppy Group and several Puppy Group placings. She was CC winner at our recent Sheltie Club championship show. Her mother Ch Shemaur I'm No Fool is still young and we hope will be shown more in the future – she's a superb mover."
Like many others I love to learn from people that have so much experience like the both of you. What advices would you give newcomers in the breed? 
SHEILA: "My advice to newcomers would be – If you want to breed don't just use the current winning dog – study pedigrees and choose a dog that has all the attributes you need and has plenty of common ancestors to your bitch, carrying the same good points as your bitch. Don't just think of producing a winning puppy but think about where you are going in future generations. If you are importing a dog think of it's potential for breeding – are there suitable lines in your country to breed with. Do you want to be a breeder or just an exhibitor?
A true breeder thinks of the future generations and breeding programme rather than just acquiring a dog to win at shows regardless of what he/she can offer the breed. Above all, enjoy your dogs and remember that no dog wins every time, there's always another show. Be sporting and congratulate those that beat you with sincerity. On  a rather sombre note – I would advise all Sheltie folk, newcomers or old hands to make a Will setting out details of provision made for dogs left behind. In these days where the future is uncertain, and danger can strike anywhere and at any time, it gives one peace of mind to know that ones dogs are going to be cared for if the worst happens."
MAURICE: "I endorse all Sheila has said but you must also start with a really well bred bitch – some newcomers put all the emphasis on what dog they use at stud but forget how much influence the bitches have in a breeding programme.  If you see an outstanding dog always look beyond him to his sire and dam."
Finally I asked Sheila and Maurice if there are things I didn't ask that they want to share with me and the readers of this article.
SHEILA: "I would just like to pay tribute to the people who helped me so much when I started in Shelties. Marion Marriage (SCYLLA) was a great help with advice on breeding lines, choosing puppies etc. If it wasn't for Marion I would never have kept Troubleshooter of Shemaur and the pedigrees of today would have been very different. Also Patience Rogers (RIVERHILL), a very clever breeder who was always ready to help and advise – I still have the early letters she wrote to me, which I treasure."
MAURICE: "I think back over the many Shelties I have been involved with, among them Ch Hillacre Heavenly Blue, so aptly named. I gave her Best of Breed at the Australian Sheltie National in 1994 in a huge entry. Another bitch I loved was Felthorn Moonbeam, a tricolour bitch. I could never understand how she didn't get her title. I also loved Ch Moonlight Madonna, a sable and white in Sweden. Our own Ch Shemaur Tuesday's Child was technically our best ever Sheltie bitch. All the overseas judges wanted her.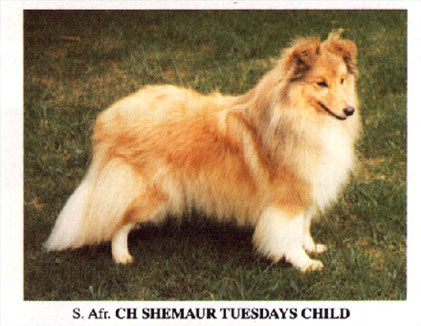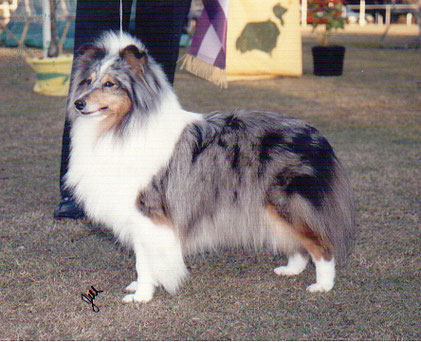 Ch Hillacre Heavenly Blue
If I had to choose a Sheltie for myself it would have to be Ch Koihai Make A Wish of Shemaur (Ramsay) I developed such a rapport with him and it wasn't just his numerous wins. He died from a particularly virulent strain of galloping biliary when he was only eight, in spite of a speedy trip to the Vet and a blood transfusion. He is buried in the garden.
In conclusion I would like to say that I was greatly helped by James Saunders (HELENSDALE) and Bill and Rita Henry (GREENSCREES)."
---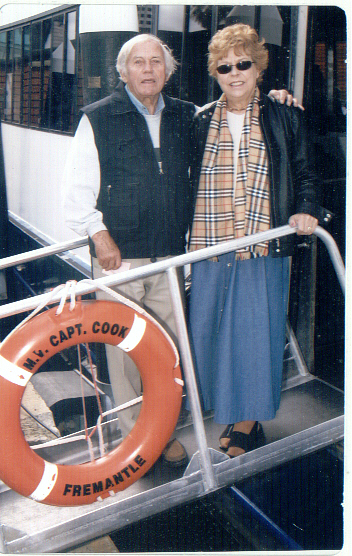 Goodbye from Sheila and Maurice Baker 
-
Shemaur Shelties
South Africa
---
Thank you Sheila and Maurice, , for sharing your vision with me and to supply me with all the information and photos I needed to make this lovely world breeders' portrait. Ineke.