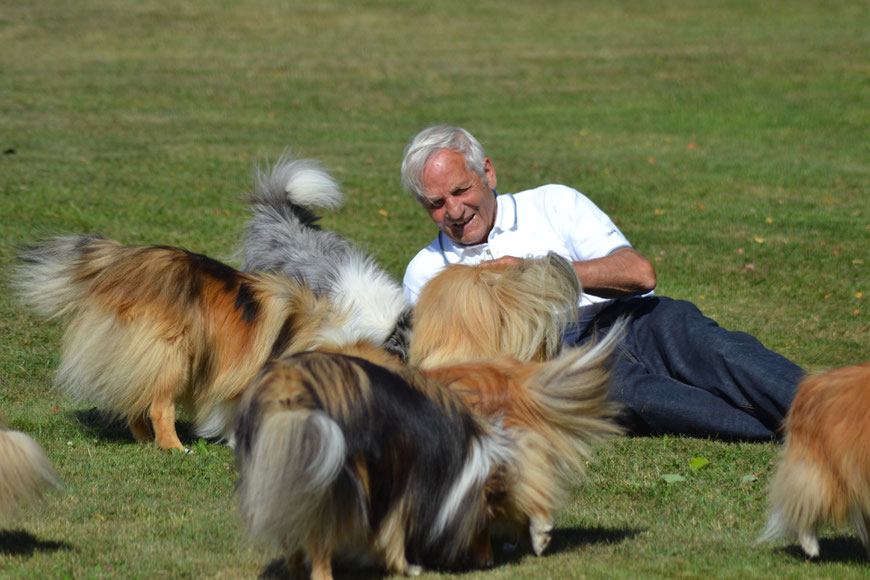 ---
On July 27th, 2018, Derek Rigby of kennel Lythwood (U.K.) passed away. Dereks contribution to the breed has been significant. He was a breeder, exhibitor and judge and was involved in many club activities on an organised basis. The first article on Lythwood in World Breeders covers the period up to 2006, the year of publication of the article. As a tribute to the man, who meant so much for the breed, Jasper van Ulsen of Kennel Dandlewood wrote an additional article on Lythwood from 2006-2018. It has been published in Dutch in the Sheltie Shelter (the Dutch Sheltie Magazine), and I am pleased to present it to you in English with the author's consent.
---
Lythwood 2006-2018
Jasper van Ulsen
---
Between 2006-2018 Derek and Phyllis scaled down their breeding activities. Although they only bred one or two litters a year, they kept up the high level Lythwood is famous for. The Rigby's made history when Lythwood Scooby Doo gained his champions title in 2010. With this title he represented the eighth generation of English champion dogs bred under the prefix of Lythwood. Later Lythwood Starlight Express gained his title too and shared the record with his halfbrother Scooby Doo.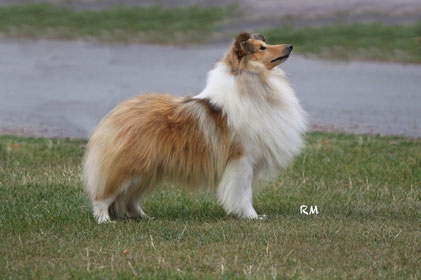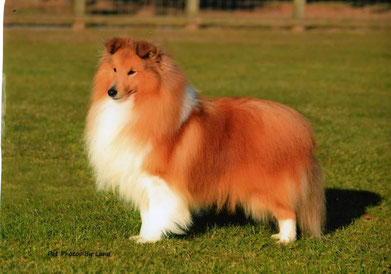 Left: GB CH LYTHWOOD SCOOBY DOO (CH LYTHWOOD SASHA X LYTHWOOD STYLIST). PHOTO: REIDUN MONSHOLM
Right: GB CH LYTHWOOD STARLIGHT EXPRESS (CH LYTHWOOD SASHA X LYTHWOOD SHAKIRA). PHOTO: LANA ROBINSON
More successes in this period were the results at Crufts. In 2012 Lythwood Shani (2xRCC) won Best Puppy and two years later her son won Best Puppy at this prestigious show too. In 2016 kennel Lythwood was selected Our Dogs Top Breeder.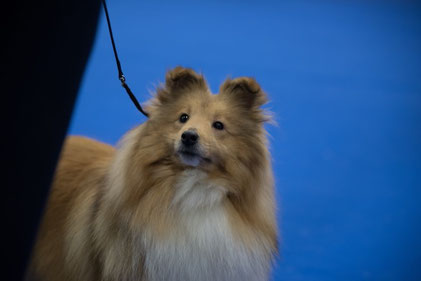 GB CH LYTHWOOD SHARA, TOP PUPPY 2014. THE PICTURE WAS TAKEN ON THE DAY SHARA WON HER THIRD CC AND WAS PLACED FOURTH IN THE PASTORAL GROUP. PHOTOS: PAUL VAN ULSEN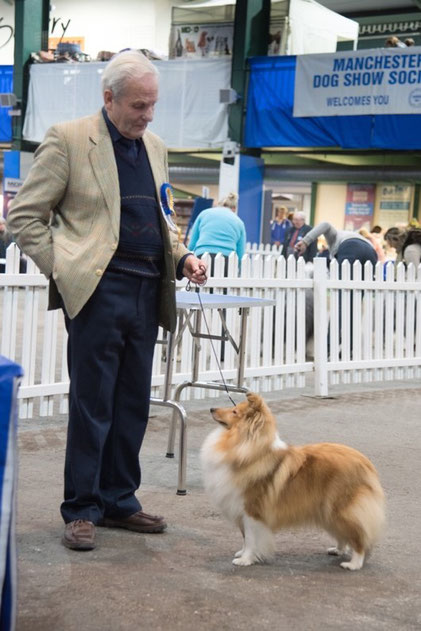 To produce quality offspring you need a quality sire as well as a quality bitch that can produce. In the past Ch. Lythwood Stage Wispa at Tegwel was such a quality bitch. In three litters she produced five champions. Nearly as successful as Ch. Lythwood Stage Wispa at Tegwel was Lythwood Scarlett Ribbon (1xCC, 5xRCC). She produced Ch. Lythwood Sasha, Ch. Lythwood Slipper Orchid (born in 2004, both gained their champion title in 2006), Ch. Lythwood Sharp Shooter (born in 2006, champion in 2009) and Lythwood Scarlett Woman (born in 2006, CC in 2006).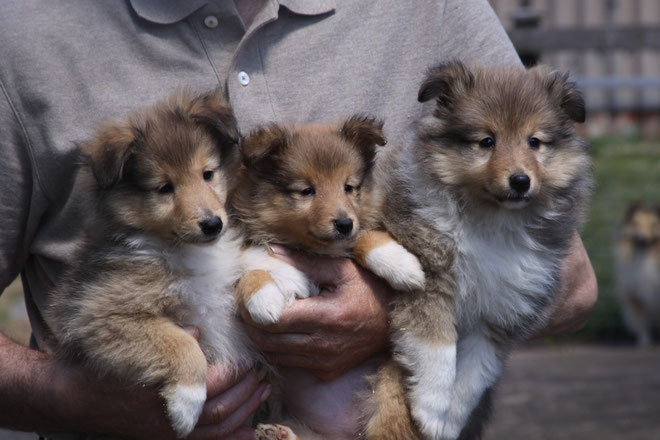 LYTHWOOD PUPPY'S (CH LYTHWOOD SCOOBY DOO X TERRIWOOD SASKIA OF LYTHWOOD) WITH LEFT LYTHWOOD SALOPIAN (2xCC, 1xRCC) AND RIGHT LYTHWOOD SHANI (2xRCC). PHOTO: REIDUN MONSHOLM
More recently the most successful bitch was Terriwood Saskia of Lythwood (Ch. Sheldon Space Joker x Lythwood Sugar Snap at Terriwood). She produced Lythwood Salopian (2xCC, 1xRCC), Lythwood Shani (2xRCC), CIB SE DK FI LT Ch. Lythwood Summer Surprise, GB Ch. Lythwood Shara, GB CIB SE DK FI Ch. Lythwood Sculptress, SE Ch. Lythwood Sweetheart (CC, RCC) and CIB SE DK LV FI Ch. Lythwood Secretariat. Last four are littermates.
In Shelties you don't often see a whole litter being successful at shows. Saskia was best brood bitch in 2016 (England) and 2017 (Sweden).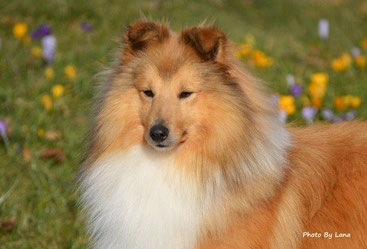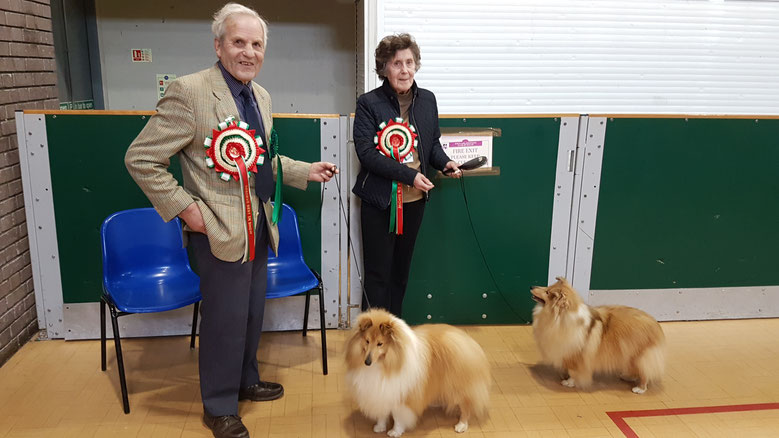 Early 2017 Derek and Phyllis celebrated their 36th English Champion, Lythwood Secret Dealer, at the SSCW Championship show. It was the same show where Lythwood Sweetheart won her first CC,  became BOB and thus defeated her halfbrother. Later that year Secret Dealer left for Sweden. At his first two shows he became Best Dog, at the Danish and Norwegian Winner. In addition to the Winner titles he gained his champions title in both countries. At his first show in Sweden he won the CC and by doing so also his Swedish title.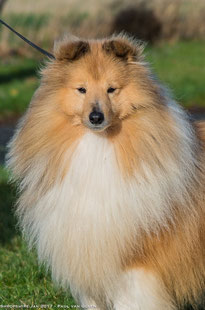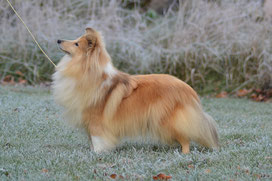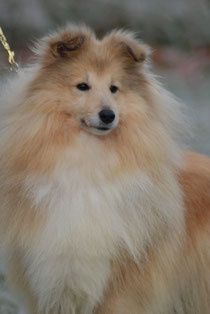 LEFT: GB CH DK UCH NO UCH SE UCH DK V-17 NO V-17 LYTHWOOD SECRET DEALER (CH LYTHWOOD SUNDEALER X LYTHWOOD SHANI). PHOTO: PAUL VAN ULSEN, RIGHT AND IN THE MIDDLE: SE UCH LYTHWOOD SWEETHEART (1xCC 1xRCC) (CH LYTHWOOD SUNDEALER X TERRIWOOD SASKIA OF LYTHWOOD). PHOTO: ULRIKA NORDIENG
Over the years several Lythwood Shelties went to Sweden to the Lundecocks kennels of Johnny Andersson and Ulrika Nordieng. All the Lythwood Shelties they had were very successful at shows and left their mark on the Scandinavian Sheltie population and they still do. It shows that the English type can also win on the European continent. To Derek is was very important to show the English type to judges and breeders.
The first Lythwood that went to the Lundecocks kennels was Lythwood Sundealer in 2013. Sundealer only sired two litters in the U.K., but nevertheless became top stud dog there in 2016. At this moment he is one of the most successful stud dogs in Sweden. Lythwood Sundealer was followed to Sweden by 13 other Lythwoods.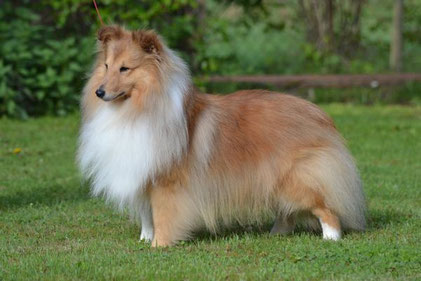 From the moment Derek got the news that he wasn't allowed to fly anymore, he didn't leave the U.K. After the doctor withdrew this advise, Derek and Phyllis decided to visit Johnny Andersson in Sweden. During the two weeks of their visit they attended four shows and inspired people with their stories about the Sheltie and their Shelties in particular. Many exhibitors were enthusiastic about by the way Derek and Phyllis showed their dogs to perfection. At the international show in Borås they won BOB with Ch. Lythwood Sculptress, BOS with Ch. Lythwood Secretariat and second best dog with Ch. Lythwood Some Like It Hot. The Lythwood kennels also won Best Breeders Group of the Shelties. It was a memorable moment for all concerned. At the first show after their trip to Sweden Derek shared his enthusiasm about their time in Sweden.
Lythwood also exported several sable and tricolor Shelties to Russia. One of the most famous dogs that left his mark on the population there is GB Ch. Lythwood Sharp Shooter. Many of his offspring have the lovely Lythwood type as well as the characteristic outline. Other dogs that went to Russia, are: GB RUS Ch. Lythwood Terriwood Stormy Nite of Naverrem and GB Ch. Lythwood Spin Doctor. You will find one of more Lythwood Shelties in a lot of pedigrees of Russian Shelties today. 
 On July 27th, 2018, after an accident, Derek suddenly passed away. With his death a very important chapter of the history of the shetland sheepdog came to an end. Over the years, Derek and Phyllis have been working hard to breed the correct type and with that contributed to the quality of the breed, in the U.K. as well as abroad. Derek liked Sheltie talk and could explain the breed standard in his own specific way, by making you think about the reason of the wordings in the standard.
Although breeding under the prefix Lythwood has come to an end, the Lythwood lines haven't. Derek and Phyllis showed their young bitch Lythwood Charlotte with success in the U.K., and her sister Lythwood Sateen is also a very promising Sheltie. Both bitches are now in Sweden and will probably contribute a lot for the breed.
---
COMPILATION OF PHOTOGRAPHS OF LYTHWOOD SHELTIES:
---