Phyllis and Derek Rigby
Hunger Hill, Condover
Shrewsbury, Shropshire, SY5 7BJ
United Kingdom
At the moment Phyllis and Derek own fifteen shelties. They are world breeders for more than fourty-five years and bred 30 champion dogs/bitches, carry the Lythwood prefix. They are both well respected sheltie and collie judges. They breed sable-white.

Phyllis and Derek in front of Hunger Hill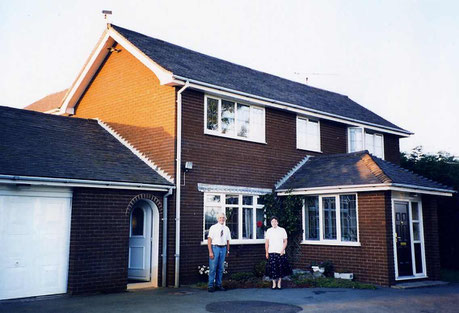 Derek Rigby was born in India, where his father joined the British army. He came to England at the age of five. He did not come from a family that was interested in pets, but from a young boy he was interested in livestock, so whilst still at school, he started with mice, guinea pigs and rabbits. Derek did very well in the show ring as his ambition was always to try and improve the species. Derek: "My biggest success was with rabbits, when I gained Best Fancy rabbit with Ch Sundorne Snow Prince (a very small breed called Polish) at Bradford. Bradford in rabbits was equivalent to Crufts in dogs. The way we showed was to send the rabbits by rail to the show and you had to wait for them to return to see the prizes you have won, if any. On the occasion of Bradford Show, I did not know anything until I returned from school to be told by my mother that the daily papers had been on, as I had beaten all the top breeders in England."
In those days Riverhill and Shelert and many other top Sheltie breeders showed rabbits. Derek: "My prefix in those days was Sundorne, but when I applied for Sundorne in dogs, I was unable to have it, as the name had already been taken. So as I lived on Lythwood Road, I chose that as a prefix, so all my dogs and Shetland ponies have come under that prefix."
Derek first met Phyllis at a dance, in the days of ballroom dancing. After taking her home, he had to collect his rabbits that had been returned to the railway station.
Unfortunately, when he received his call up papers for National Service in 1953, he reluctantly sold his stock to other breeders. On having a medical, he was found to have suffered an sporting injury to his knee when he had played for a local club and this meant he was unfit for call-up.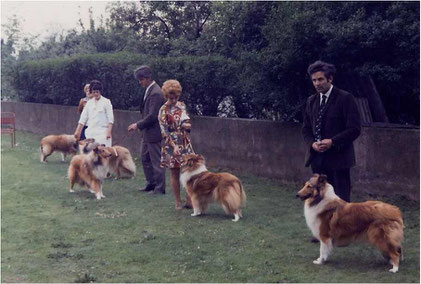 Phyllis and Derek got married in March 1959 and their love for dogs soon developed. Derek's first love was the rough collie, but as they had a very small car and a small garden, he turned to Shelties and hence began their lifelong passion for the Sheltie. They later moved in a bigger house and Derek purchased his first rough Collie, with which he did quite well in the ring and breeding. Phyllis and Derek also had American Cookers and Yorkshire Terriers.
Derek purchased his first Sheltie with the recommendation of his friend Cyril Stanley, a Championship show judge of Toys and Terriers. Her name was Buttons and Bows of Beeswell and it was in 1960. Derek: "I mated her to a well-known dog at the time and thought I had a good litter. When the puppies were eight weeks old, I asked the opinion of an elderly gentleman called Arnold Cluff, the owner of Ch Watta Woodcut. When he looked at them, he said 'if you want to get on in shelties, get rid of the bitch and the puppies and start again!' I thought I knew best and I carried on for three years, then I realised the old man was right, as he said 'you will never get rid of those big round eyes and a long fine foreface'. So I plucked up courage and started again. His words have stuck with me all my life, as I feel the first thing you look at is a Sheltie's head and expression."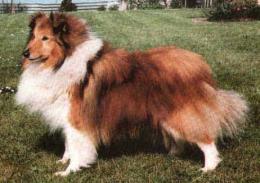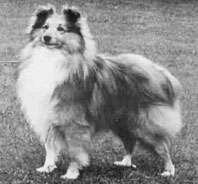 Ch Lythwood Skymaster left and Ch Lythwood Brandy Snap right
Derek's first champion was made up in 1972, which was Champion Lythwood Brandy Snap. His breeding was Jefshire Allanvail Gold Spark out of Lythwood Bonnie. This dog was the foundation of the Lythwood Stud, as he was the first inline of the record in England of breeding seven generations of male champions. The previous record was three.
Derek: "Exhibitors in the early days looked up to people like the Rogers and the Herberts who had proved themselves to be the most influential breeders of the day and you were told it was the policy to gain four tickets and then retire them from the ring, except for special occasions like Crufts and Club championship shows (we have nine Sheltie Clubs in the UK)."
The Rigby's were very lucky, as they have two independent male lines; the one started with Brandy Snap and the other is Skymaster.
Skymaster has proved to be one of the most influential male dogs in the breed today and has sired more champions (twelve champions) together with Ch Jefshire Freelancer holding the record in England. Skymaster is the sire or grandsire or will be found, in all the top stud dogs (Dog World Top Sires) since his death.

Phyllis and Derek usually have about fifteen Shelties, including many of the old champions. They only breed one or two litters a year, although they have champion bitches that have never had a litter. Derek's other interests are Shetland ponies carrying the prefix of Lythwood.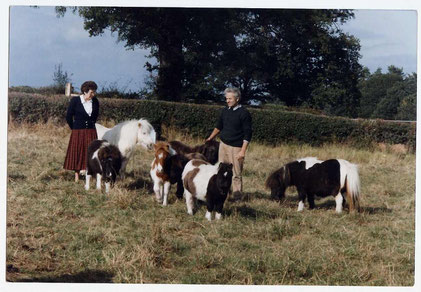 Derek: "At one time, I had as many as sixty-five. Size is also critical, as they have to be less than thirty-four inches. This is measured at the show, to make sure that they are not over size.

I also breed miniature parrots, called Celestial Parrotlets. I have had to cut down on the Shetland ponies and now only have one left that stables with my daughter's ex-racehorse."
Phyllis and Derek have been fortunate enough to have bred thirty British champions carry the Lythwood prefix. Their latest champions are Ch Lythwood Slipper Orchid, Ch Lythwood Terriewood Stormy Nite and Ch Lythwood Sacha. At the moment, they are showing Lythwood Scarlett Ribbon, the mother of Ch Lythwood Slipper Orchid and Ch Lythwood Sacha, who has four Reserve CC's.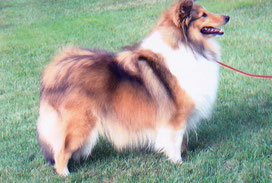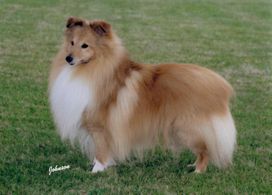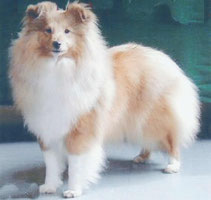 From left to right: Lythwood Scarlett Ribbon, Ch Lythwood Sixsmith and Ch Lythwood Slipper Orchid
Derek: "The things I consider are of the utmost importance in our Stock, is to have the animals as near as the ideal size as possible, with a good outline, with the right amount of bone, well-shaped eye and neat ears.
I avoid at all times introducing into my stock the heavy-headed and heavy-boned dogs that are being introduced to many countries from abroad. As I consider the shape and size of a Sheltie should be able to twist and turn, with the correct amount of length of back, neck and tail and being able to run and move for many hours. I feel this could not be obtained from a dog that is too heavy in bone and carrying far too much weight. As our Standard says without fear of coarseness or cloddyness (I try to breed racehorses not carthorses). I like a bitch to be feminine and a dog to be masculine.
The problem is today in this country and many I have visited dogs are becoming far too big i.e. over fifteen and a half inches, and strong deep-through heads and broad skulls; and this type is becoming a champion. There is no doubt about it, that Shelties have changed over the years, temperament on the whole is much better, but I think we are losing the true Sheltie expression due to large eyes and wide-placed ears, broad skulls and the deep-through heads. As Judges keep putting up this type, people will breed and show them."
"In England at the moment, a few exhibitors (who do quite well) have started running their dogs to hid the rear movement. I hope this does not catch on and judges are strong enough to stop this latest craze as I feel you can only assess movement when you can see the placement of their feet. I personally would like to see a measure used, as our Standard says, an inch above or an inch below is permissible, but I will point out, there are very few male dogs and bitches of ideal size being made up in England. In some cases, when it comes to the challenge for Best of Breed, the Bitches are stronger and bigger than the dogs!"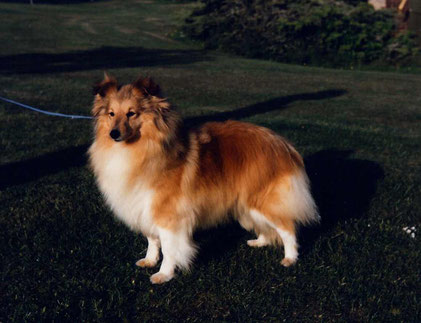 Derek sometimes thinks that people can go overboard on trying to breed the perfect healthy dog. You can have tests now for so many ailments. Derek: "This is a good thing up to a point and breeders should consider how far to go. As a stockman of good experience can tell so many things that are prominent in various breeds. We have almost forgotten PRA which certainly does affect the livelihood of the dog and Hip Dysplasia which causes the dog pain. But we can not get humans right, so how does one expect to get the perfect dog. But all the aspects should be taken into consideration when breeding."
Asking Derek Rigby for his opinion on the American influence in the breed today he is very explicit. Derek: "What people do not understand, by mixing the American and the English lines together, although you might import a smaller American dog, it has got the genes of a much bigger and stronger animal, which means that in time, it will change the elegant dog, which we like so much into a much stronger and bigger animal. On viewing the American lines, I am convinced that there are more dogs in America, than the rest of the world put together, so if we are not careful, the appearance of the Shetland Sheepdog will be changed forever. As I said at the World Conference in England, the American's showed us photographs of dogs which had sired one hundred and forty-seven champions, and that is just one dog, so it must be much easier to make up a dog in that country.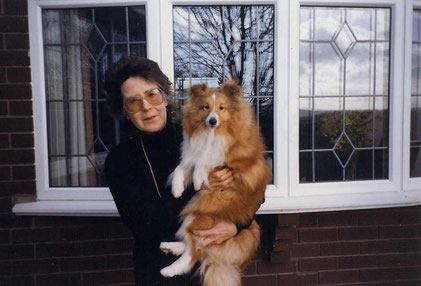 Phyllis with Ch Lythwood Secret Dreams
As I have already said, there are horses for courses and if we wanted a horse to pull a cart, we would have a carthorse, but I think we want an animal of speed and elegance, so I refer to it as a racehorse. As I think breeders today, should think very seriously of incorporating these two completely different types into their breeding programme. The problem we have got today, the world has been made so small with flying, that Judges from America (All Rounders) expect to see the strong heavy large dogs they see in their home countries. The problem we have got today, the world has been made so small with flying, that Judges from America (All Rounders) expect to see the strong heavy large dogs they see in their home countries." 
Phyllis and Derek both had the opportunity to judge at Crufts and Derek has judged at eight out of nine Club championship shows. Derek Rigby's first judging appointment was in 1968 when he took over the entry for a great friend and helper with rabbits and dogs, Cyril Stanley, who unfortunately was unable to judge the show. This show was one of the lowest levels of show, which is a Sanction Show. His first championship show was in 1973 at Birmingham City. Derek has  given CCs in England on twenty-five occasions and judged in all the Scandinavian countries, as well as Australia and Germany. He also judges rough collies with Ccs and smooth collies.
Derek: "The main thing when judging abroad, I always consider are they adhering to the Standard of Origin i.e. The British Standard. The overall symmetrical picture of the dog is most important, as one part perfectly compensates another. Head and expression is very important, this is a combination of size and shape of eye, rounded muzzle and nicely placed ears. I always think of a Sheltie's head from the front is like a traffic cone gradually increasing towards the ears. The relationship to height and length of body is also very important.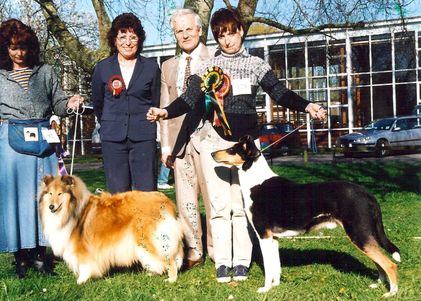 Length of tail is an important feature as, on a predator this helps with balance when turning and twisting. When I was judging in Australia, at the spectacular show, before judging in my pre-talk, I said I did not want any of the exhibitors running around the ring, placing the dogs feet and holding the ears up with a slip lead, as many of them are accustomed to doing. I must say, that the exhibitors were the best behaved that I have ever judged abroad."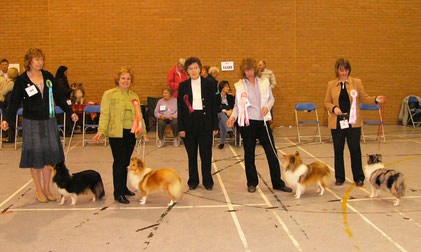 Phyllis judging at the EASTERN COUNTIES SHETLAND SHEEPDOG CLUB Championship Show on November 19th, 2006. Photo: Tony Bridge.
"Movement is very important as it is to cover the most amount of ground with the least amount of effort and the strength of all movement should come from the rear, as the hind legs have a ball and socket joint for strength.

The front legs are only held on by muscle, so there is not one individual factor; it is a combination of how the whole dog is put together."
"One of my early recollections of a thing that happed at a show was when Brandy Snap was a puppy, he got off his bench and came to the ring standing in the middle and showing his head off. He had a fantastic puppy career, gaining seventy-five points for his Junior Warrant (only twenty-five required) before he was twelve months old."

Dereks' favourite Shelties are not dogs with the largest number of CCs, in his opinion the Breed benefits from a dog or bitch that can pass on their qualities and produce top winning stock from a number of litters.
Derek Rigby has been connected with the English/Midwestern Training of Judges scheme since it first started and he feels many judges have benefited from these assessments. Derek: "But in all cases, like taking your driving test in a car, after you have passed you the decide to please yourself. After being an Assessor and lecturer for these assessments after many years I have now taken a backseat, but I still assess for the Kennel Club with the training of all rounders for the pastoral group."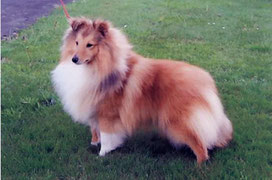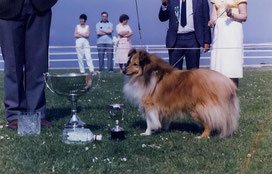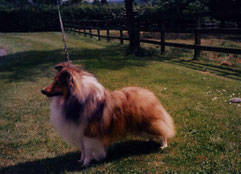 From left to right: Ch Lythwood Sascha, Ch Lythwood Scrabble and Lythwood Scrumpy Jack
Phyllis and Derek's major achievements in the Sheltie world are to have bred and owned seven generations of champion male dogs, the previous record was three owned by the late Miss Olwen Gwynne-Jones. Ch Lythwood Stage Whisper has now taken over from Ch Riverhill Rare Gold as producing the most champion offspring (five) from three litters out of one bitch; three champion dogs in one litter. Five of their shelties gained the title of Top Winner Sheltie (Dog World). They also bred the top brood bitch of all time. Although they do not usually campaign their champions after the fourth ticket Lythwood has won Pastoral Groups with two different dogs (they share this record with Mrs M Norman from Francehill).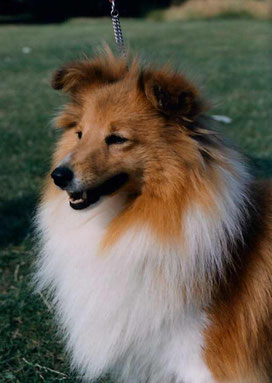 Also, in 2004 the Kennel Club contacted Derek to obtain my consent for Ch Lythwood Sixsmith to be on the front cover of the Kennel Gazette after winning Best in Show at the English Sheltie Club championship show.

Left: Ch Lythwood Stage Wispa at Tegwel,
top breed bitch of all time.

Right: Ch Lythwood Sixsmith on the cover of  the Kennel Gazette in October 2004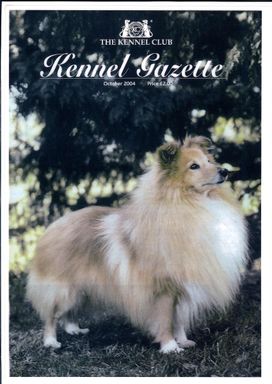 Looking back over the many years (forty-five) that Phyllis and I have been showing and breeding shelties, they feel that the Breed has benefited from their achievements and they would like to think that in years to come exhibitors stick to the British Standard and keep to the size and substance which the Standard asks for.  
---
Phyllis and Derek Rigby are modest people, who don't advertise their wins and expertise. To emphasize their great influence on the sheltie population in the U.K. and abroad Margaret Dobson, Aud Jorun Lie and Joan Stanley were pleased to give their opinion on kennel Lythwood.
Margaret Dobson
My love affair with Shelties began in 1955 when my late husband Les and I bought our first Sheltie as a pet. Since that time I have met many people dedicated to Shelties, especially breeders who breed to improve our breed and follow the statement included in most Club Rules "they should be honest with prospective owners and fellow breeders as outlined in the Club Code of Ethics".
Derek and Phyllis Rigby fit this perfectly. 
I am sure most breeders will agree with me when I say they are very modest regarding their achievements in the Sheltie world as they very rarely advertise their successes.
So, it remains to others to let the world know just how much has been achieved. 
Breed history was made at the Mid Western Shetland Sheepdog Club Championship Show on the 28th October 2006,
Derek handled his Dog Lythwood Sacha JW to win the Challenge Certificate making Sacha into a Champion and thussetting a record for the Breed. This was the Seventh generation Dog Champion in a direct line.
Lythwood Sacha is the 28th Lythwood Champion bred by Derek and Phyllis and the 30th owned with a Lythwood sire or dam, a record for any Sheltie kennel.
I have awarded CC's to lovely Lythwood Bitches and to one of these special Dogs.
I rate them amongst some of the best Shelties I have judged.
Not only have the Lythwood's achieved success for their owner, but other Breeders have benefited from the expertise of Derek and Phyllis and their Shelties, thus making their mark in the history of the Shetland Sheepdog. My thanks go to them both for their friendship during the past years and support at times when most needed.
 
Joan Stanley
In my first five years of breeding Shelties I suppose I did quite well and then I bought my first Lythwoodand became more successful. To me Lythwoods are the closest to the Breed Standard, their type, their construction, coats, size and expression all go together to make a super sheltie. Through their line I became breeder of Top UK All Breeds Stud Dog 1997 and Top Breeder 91 and 93.
I owe Phyllis and Derek a lot and especially CH LYTHWOOD SKYMASTER  just one of my favourites.
                                                              Aud Jorun and Helge Lie
We met Derek and Phyllis Rigby for the first time in 1972 when we visited their Lythwood kennel and we were very impressed by their dogs. Their big star at that time was Lythwood Brandy Snap who was madeup the next year. This dog became the ancestor of their famous 7 generation champion dogs bred at Lythwood – the youngest one Lythwood Sacha was made up in 2006. They are also Top Breeder of 30 Champions with their prefix.  And we also will add that one of their bitches Ch Lythwood Stage Wispa at Tegwel is mother of 5 champions.   
  We have followed the Lythwood Shelties during 35 years quite close and we have been lucky to import some of their very nice dogs, we can mention Int Nordic Ch Heathlow Martext of Lythwood who in 1974 was the first Norwegian owned  Sheltie Dog with an international title, but we also will mention N S Ch Lythwood Stiletto and N S Ch Lythwood Smoke Screen and the last one imported in 2006 Lythwood Scrumpy Jack who need one CC more to gain the title.
Phyllis and Derek have always been true to the Breed Standard and as Derek says: "The Standard is the Bible for the breed"!  In our opinion this should be the Star to follow for us all who breed Shelties. 
At the end we will say thanks to Derek and Phyllis for what they have done for our lovely breed.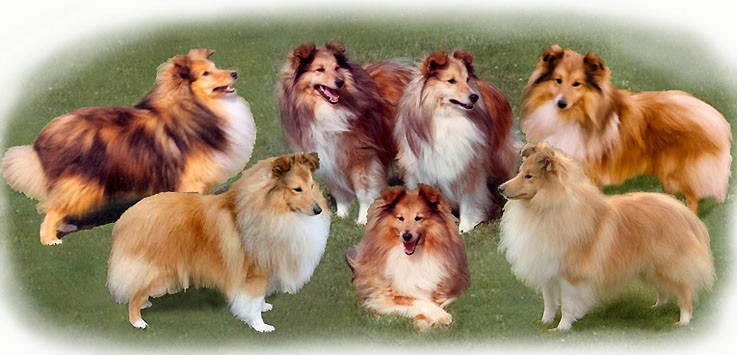 Seven generations Shetland Sheepdog Champion Dogs bred at Lythwood in England: above from left Champions Lythwood Steptoe (Ch 1991), Lythwood Saga (Ch 1980), Lythwood Spruce (Ch 1981) and Lythwood Scrabble (Ch 1986). Hereunder from left Champions Lythwood Sacha (Ch 2006), Lythwood Brandy Snap (Ch 1973), Lythwood Shalako (Ch 2002).  Photo compilation: Aud Jorun Lie.
Looking back and in the future. Derek: "As always, although we have a large acreage and large kennels, we do not breed many puppies, sometimes two or three litters a year maximum and occasionally we run the whole litter on until after they are six months old. I always refer to puppies as babies in a pram, 'they are all bonny baby girls, but lads wait until they are sixteen to see if they are worth taking out!'
Looking back you can always learn something from the old exhibitors or even the new ones, as one is learning all the time and you never finish improving your knowledge of this lovely breed. I am still trying to breed the dog which I consider to be the nearest to the Standard that I have bred, I am still trying, but the years are catching up with us and we are now slowing down."
Derek's advice to new comers is simple: "Look, learn and listen, and don't look at yours or other people's dogs through rose-coloured spectacles.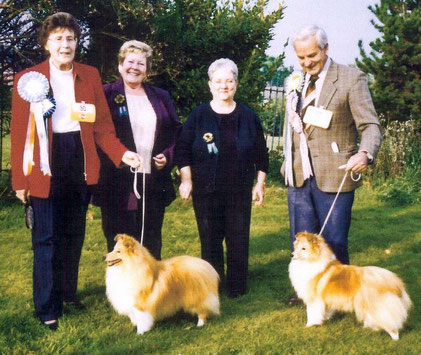 Phyllis and Derek with Ch Lythwood Shalako and
Ch Lythwood Forever Amber, winning BIS and R-BIS
Yorkshire Club. Judges are Mrs Margo Nixon and Mrs Sheila Hickson.
In breeding one should consider, not the dog that has got a lot of CCs, but what a particular line has produced to the line of your bitch. Consider the Standard, and judge your animal to how you think you could improve it, as I have already stated, I learned a very hard lesson when showing a fellow exhibitor my first litter who I thought was superb, but I had the foresight and knowledge of breeding other animals to have the courage to start again.
We have had a wonderful time and met some exciting and interesting people in our life with Shelties and I wish all breeders and exhibitors success for the future, but please try and stick to the Standard of the place of origin."
Phyllis and Derek Rigby
---
Thank you Phyllis and Derek, , for sharing your vision with me and to supply me with all the information and photos I needed to make this lovely world breeders' portrait. Ineke.
Special thanks to Messrs. Margaret Dobson, Joan Stanley, Aud Jorun Lie and Monique van Poppel for their contributions.