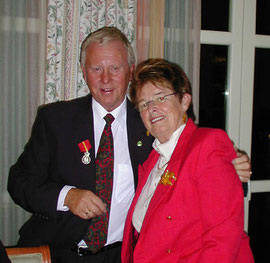 Photo taken in September 2004 when Helge was granted with 'The Kings Honorary Medal in Silver' by King Harald of Norway,  with a very proud Aud Jorun at his side. 
Aud Jorun and Helge Lie. Situated in Norway. Present shelties: five dogs at home and five bitches on breeding terms with friends. World breeders for almost 35 years. Breeders of 48 CC winners, including 29 Champions. Concentrating on sable and whites.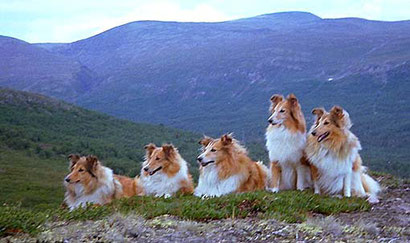 Photo: The five foundation bitches of Leeland: Cover Girl and four GB imports.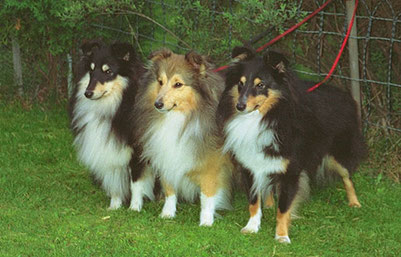 Photo 1981. Three Gb imports, from left: Kamarlee
Star Attraction CC winner, Ch Stationhill Speculator and Ch Bananarama of Kyleburn.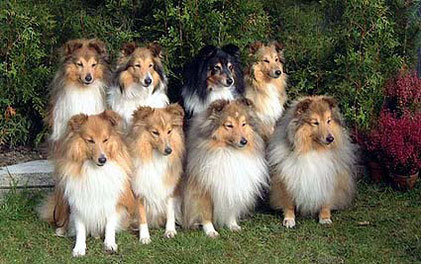 Leeland-shelties, Photo in 2001, in front from left: Ch Stornaway Sawney Bean and his half sister ChStornaway Sunlit Rose, Ch Leeland the Golden Vikingand his father Ch Kindergate the Joker. Behind from left: Ch Marklin Wild Jazz, Ch Leeland Applerose, ChBananarama of Kyleburn and Ch Leeland Sunshine (halfsister to Ch L the Golden Viking).
---
Aud Jorun and Helges' passion for shelties started with … the two cocker spaniels of their neighbours. They liked them very much and thought a dog of their own to be a good idea. They visited breeders of different breeds but when they met a breeder of shelties they were lost. This was the breed they had been looking for. By that time it wasn't important at all if their sheltie would be a dog or a bitch, and if he/she was of show quality or not. In 1968 they welcomed their first bitch, Cover Girl 'Lissie'. Her mother was bred in Norway and her father was an English import N Ch Willowstone Wiseman (son of the famous Riverhill Rolling Home). 
Aud Jorun and Helge:
''Lissie' was very special to us and when she got a 1. prize at her first show we got more interested in the breed, in pedigrees and English dogs in the Norwegian shelties pedigrees. This resulted in Lines and Families in the NSSKs Handbooks.'


Since their first litter was born in 1971, by Ellington Elwyn  X  N S Ch Ellington Endow, Aud Jorun and Helge have bred 48 CC-winners including 29 champions.
Their breed is based on English bloodlines such as Sumburgh, Lythwood, Riverhill, Lysebourne, Stornaway, Francehill, Stationhill, Kyleburn and Forestland. In a period of 31 years time they imported 21 shelties from England (all became CC-/resCCwinners – 19 are made up). They are listed below:
The Boys
Int Nordic Ch Heathlow Martext of Lythwood (imp 1972)
Int Nordic Ch Lysebourne Double Up (imp 1973)
N Ch Liberty of Lysebourne (imp 1977)
Int Nordic Ch NordicV84 Mondurle's Bannock (imp 1981)
N Ch Adonis of Kyleburn (imp 1984)
N S Ch Lythwood Stiletto (imp 1984)
N S Ch Lythwood Smoke Screen (imp 1988)
N Ch Bananarama of Kyleburn (imp 1988)
Kamarlee Star Attraction, 2CCs (imp 1990)
N Ch Stationhill Speculator (imp 1990)
N Ch Forestland Herald (imp 1992)
N Ch NV95 Marklin Wild Jazz (imp 1994)
N Ch Lysebourne Kismet (imp 1996)
N CH NV95 Marklin Wild Jazz (imp. 1994)
N Ch NV96'98'02 Kindergate the Joker (imp 1996)
N Ch Stornaway Sawney Bean (imp 2000)
Shelridge Starmaker, resCC (imp 2003)

The girls
NS Ch Ellington Endow (imp 1971)
Int Nordic Ch Sumburgh Lulubelle (imp 1972)
Int Nordic Ch Riverhill Ring of Bells (imp 1974)
N Ch Sumburgh Witch Hazerl (imp 1976)
N Ch Stornaway Sunlit Rose (imp 2000)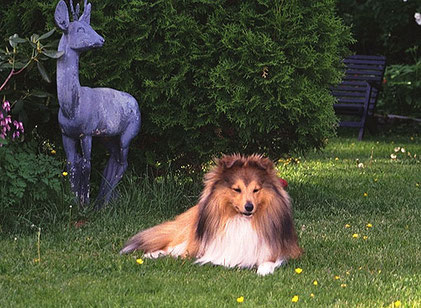 Aud Jorun and Helge about the early years:

'When we got our first litter in 1971 our son Dag Christer was one year old. It was quite a busy time as we were both also very active in the board of the Norwegian Shetland Sheepdog Club. Our interest in English dogs and pedigrees brought us to England together with our friend Kari Schulstad of Ellingstone Shelties. We travelled around from kennel to kennel and learned much about breeding and the lines in these kennels. English breeders are very proud of their dogs and we got many friends who we have kept in contact with during all these years. We are thankful that we got the possibility to travel with Kari Schulstad from kennel to kennel, discussing and learning about the breed. It was a great shock to us all when Kari died of cancer in 1995. Her death was such a great loss to many sheltie-people! She always shared her knowledge about the breed to all who asked!

We have been so lucky to be able to buy many good dogs and bring them to Norway. The result of this is that we got new blood in the breed, not only in Norway, but also in other Nordic countries as breeders from Sweden and Finland also used our stud dogs.'

 
The first 10 years Aud Jorun and Helge had bitches at home, but then – when they imported Mondurle's Bannock 'Rosco' - he just had to stay with them. Aud Jorun:
'Rosco was of such a great personality. This great show dog became Int Nordic Ch Nordic Winner 1984. He also showed his great value at stud in our Nordic countries. He died of cancer nearly 14 years old. We still miss him but we feel honoured to have been his owners.'
Int Nordic Ch NordicV84 Mondurle's Bannock "Rosco"
(GB Ch Francehill Andy Pandy, BB, ex Stationhill Yolanda, fam. 9) sable. Size 39 cm. Born 26th June 1979. Died 1993. Breeder Mrs M Duralski, England. (She and her family moved  to America later on.)
  
At the moment Aud Jorun and Helge have five shelties, living with them like family members. They have their own dog garden and their own dog room, which is in fact the PC-room of the Lies. In the evenings they share the TV room with them.  
The dogs that live with Aud Jorun and Helge today are Ch Marklin Wild Jazz, Ch Kindergate the Joker, Ch Stornaway Sawney Bean and the young dog Shelridge Starmaker (res CC). The fifth dog in their home is Leeland Play On Billy (6 months), who is co-owned with their son Dag Christer. Their age varies from 6 months to 12 years. They also have five bitches on breeding terms by friends. Aud Jorun and Helge have never been big breeders as they mostly have had one or two litters from the bitches they have on breeding terms.
Living a very active life five dogs is the maximum where it comes to spending quality time with them and enjoying them. Fortunately Aud Jorun has during all this years been able to take two of the dogs with her at work in the Kennel Club, so they could meet other people and also other dogs during the day….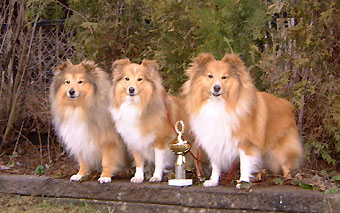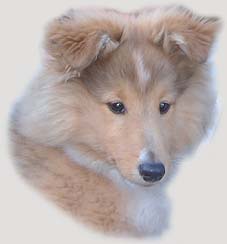 Photo 2001: Ch Kindergate the Joker (left), Ch Stornaway Sunlit Rose (in the middle) and her halfbrother Ch Stornaway Sawney Bean.
The youngest 'Leeland': Leeland Play On Billy (6 months), co-owned by son Dag Christer, by N Ch Leeland the Golden Viking x Ch Stornaway Sunlit Rose.


This year the 7th generation Leeland shelties was born. Sire is N Ch Leeland the Golden Viking, that goes back on Leeland breeding on his dam side. Dam is their youngest English imported bitch Ch Stornaway Sunlit Rose. At this stage (six months) the puppies have much from their mother but you can also see influences from their father and grandfather and even from earlier Leeland dogs in the pedigree.
Aud Jorun and Helge:
'It is interesting to see that Shelties looks as a "Rosco"-puppy, a "Flame"-puppy, a "Mac"-puppy or a "Joker"-puppy. When thinking back on our foundation bitches the shelties on our two Sumburgh lines looked very even after three – four generations of breeding. Shelties on our Riverhill-line and from our Norwegian bitch Cover Girl also had something in common. When reading Cover Girls pedigree you see that her grandfather was Riverhill Rolling Home.
We breed for type and quality. So when we are looking for a new dog to import from England, we make up our mind what we are going to look for and what lines we want. It was not as simple as just 'buying' a dog. It often takes a year or two to get 'the right dog'.' 
 

Leeland 'Mac' with five children. Photo taken in 1991 when Ch Stationhill Speculator (left on photo) got Prize of Honour for a progeny class (only one of these was bred at Leeland).
Aud Jorun and Helge Lie don't stick to line breeding. They breed from lines that have the type, close to the English standard. They don't believe in importing dogs that are too close related to the dogs they own. They just won't take the risk of double up faults. Pedigrees are very important.

Aud Jorun and Helge:
'When reading pedigrees we can 'see' most of the dogs in front of us, as we have studied Lines and Families and have closely followed breeding in the U.K. during the years. We can see how the type inherits and have a feeling of the way this special dog would go on with our own dogs in Norway. We also try to learn about faults in the lines that we don't want to bring into our lines, or want to double up.  So by 'reading' pedigrees names come to life in pictures in our mind.
We have found it most important to keep in contact with breeders in the U.K. and if needed we asked them for advice about what lines the dogs we have imported from them could go with. In fact a breeder of a dog knows best what this special dog should/should not be bred to. In our opinion we all have to work together to do our best for the breed. So asking advice is very important, but it is also very important to give back information when it comes to the bitch who is going to mated. So it's a 'long distance' co-operation when talking about breeding – but very, very useful. I would like to add that the British breeders that we are in contact with really care for the breed, they love the breed the way we do!'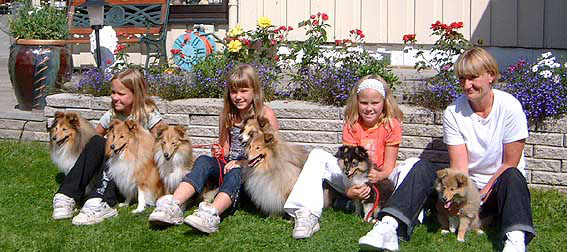 Leeland puppies paying a visit (2002).  The two puppies are by Ch Kindergate the Joker ex Ch Stornaway Sunlit Rose. The adults are from left: Ch Marklin Wild Jazz, Ch Stornaway Sawney Bean, Ch Stornaway Sunlit Rose, Ch Leeland Applerose and Ch Kindergate the Joker.
---
As told Aud Jorun and Helge stick to the English standard.

In October 2000 Helge Lie represented Norway and the Norwegian Kennel Club during the ESSC Conference. Main subject there was the English/ American standard. At this occasion Helge stated that he felt the American sheltie to be almost another breed. Now it's four years later. The influence of 'American' shelties has increased. What's your opinion Helge with respect to this tendency?
Helge:
'I have still the same opinion about the influence of American shelties in Europe. The sheltie standard is made in England and breeders in Europe should breed their shelties to that standard. I think American shelties to be nearly a different breed in many ways, and I think that if we get too much influence in our breeding it will give us too many problems. I don`t think it will be possible to get the two types together and build a new type of shelties. We have to stick to the original of the sheltie. The English type.'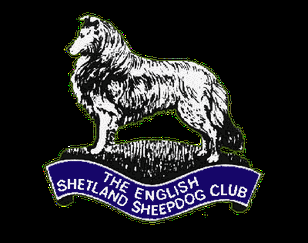 The video "Visit to British breeders and British shows 1972 – 2000" is known to a lot Sheltie owners. This 3 hours video shows many famous dogs and well-known Sheltie kennels in Britain during more than 30 years. Aud Jorun and Helge have visited Britain regularly for almost 30 years and during these visits they have registered lots of dogs on video. They have been to Crufts nearly every year since 1972 and on this video you will find cuts from 16 of these years. The main reason for making this video is to attribute to the cultural history of our breed.
Aud Jorun and Helge trust old and new breeders both in England and in the rest of the world to find this video worth seeing. Since the video has been put together from amateur films and videos the quality could have been better. But you may overlook this when Aud Jorun and Helge Lie show you around, visiting kennels and shows. You can find more information on this video on the website of Leeland.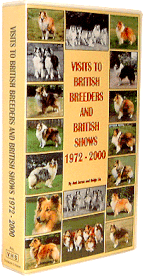 Helge Lie is not only a well respected breeder but also a judge with a world wide reputation. When and for what reasons did you decide on judging? 
Helge:
'I started my judging career with shelties and collies in 1976. The reason was that I had a great interest for those breeds, specially for shelties. Later I found a lot of interest in other breeds too and it lead to the fact that I am now authorised for nearly half of the breeds we have in Scandinavia.'

Looking back, what has remained with you all along?
Helge:
'Judging in Australia was a very interesting experience. The dogs and the people was fantastic. I can say that we were very impressed by the sheltie people, a.o. as there were so many people who came to the airport to say goodbye when we left again for Norway after our visit. I also would like to mention my judging in Russia. I met people who had bred shelties and collies up to the standard we have in the rest of Europe.'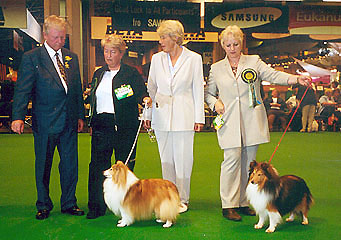 Crufts 2001. From left: Helge Lie judged the bitches, the owner of best bitch Jill Hoodman with Ch Seavall Sheen, the judge of dogs Carol Ferguson and Mrs E Wilson with her Ch Moorstyle Moonson best dog and BOB.  
Judges have their own way of judging and personal preferences.
 Helge:
'Type and size of the dog are very important to me. My first selection is when a new class is entering the ring. Sometimes I can find the best ones at that moment. My next selection is when I take the class around in the ring. For example I can see how they move, and the tail carriage is very important. After that I judge the dogs one by one. I can see them standing in front of me, and that gives me very good information about the type. As I have said before, I prefer the right English type. Head, eyes, ears and expression, and of course the size and proportions is very important. Sometimes when I am judging I have new exhibitors showing their dog for me, and I can see that they are very nervous. When this happens I try to be as kind as possible, and I talk and behave as good as I can. I always try to find the good details the dog has, and tell them to the exhibitor.'
Helge has been judging for a long time and in many countries. What has it learned you?

Helge:
'Comparing to earlier years the presentation of the dogs in many countries has changed to the better. That is also the attitude of the exhibitors. Since the U.K. is the home country for our breed, English breeders and exhibitors are for the rest of Europe what we have been looking for during many years. Serious continental breeders are often visiting English breeders and shows. The most popular places to go to are Crufts and the big breed club shows.'
I asked Helge to select a top 3 of his favourite shelties today.
Helge: 'During the time as a judge and a visitor to a lot of breeders in England and the rest of Europe, I had had the opportunity to see many good shelties. In fact so many that it is difficult to point on a few.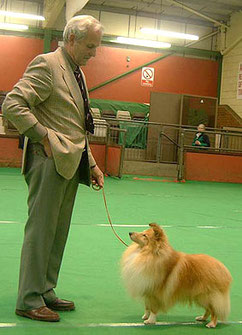 Photo taken at the English Shetland Sheepdog Clubs CC Show Otober 2004. Derek Rigby showed his GB Ch Lythwood Sixsmith and won BIS. This dog is the sixth generation Lythwood Champion Dog, owner/breeder Derek and Phyllis Rigby, England.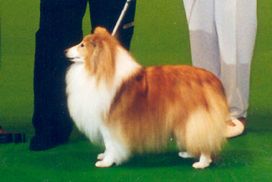 As I have said earlier I judged sheltie bitches at Crufts some years ago. By that time my winner was Gb Ch Seavall Sheen, a beautiful bitch with a character I like to see in our breed.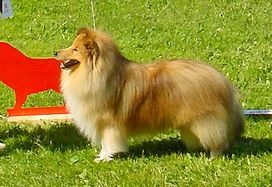 There is one dog I judged in the middle of Sweden some weeks ago that I have to mention. His name is Nordic Ch Sheldon Space Joker. I gave him Best in Group, and he was second best in show. He is really a breathtaking dog who could win all over Europe, incl. England.'


---
Sheltie breeders too have got to deal with health problems within the breed. I asked Aud Jorun and Helge about the policy breeders have with respect to health issues.
Aud Jorun and Helge:
'The most important is to be honest to yourself and to learn as much as possible about health and the special problems in our breed. It is important to have the puppies eye-checked at seven weeks, and we at Leeland have all our stud dogs eye-checked every year and also only breed with dogs that are HD free.  
The Norwegian Kennel Club has information on their website for their members on the link "DogWeb". All members can get information there about the litters, their pedigrees, their show results and health. Here you can find information about HD results and eye results too. This information is very important for breeders as well as for the breed club. The breed club also publishes each year all results from eye tests and HD results and advices about what to breed from and what not to breed from regarding faults.
Our opinion is not to be too fanatic but to get as well informed as possible to avoid to double up faults. It is important to breed for type and quality and not to 'drown yourself' in faults.'
I know PRA is one of the health problems that has got Aud Jorun and Helges full attention. It's my pleasure to give them the opportunity to emphasize the importance of (the research on) PRA.  
Aud Jorun and Helge:
'When talking about PRA: It was like a bomb when the PRA (GPRA) cases came into open in Norway, Sweden and Finland - but it was very important to use this in a positive way for the whole breed. We feel proud that the Norwegian Shetland Sheepdog Club took the big decision to make it possible to start the work to find the DNA for PRA. This research will be done by the veterinary/professor Frode Lingaas at the Norwegian Veterinarian Highschool. This research is valuable to all breeders of shelties - not only in Norway, Sweden and Finland but to the whole world. 
The PRA-fund has been supported by the Norwegian, Swedish, Danish, Finnish, Dutch, the English Shetland Sheepdog Club, Midwestern Shetland Sheepdog Clubs, the Shetland Sheepdog Club of North Wales and Victoria Inc., Australia. The PRA-fund has also got money from the Norwegian Kennel Club, from two Norwegian private foundation donated to the Norwegian Veterinaryan Highschool and from a lot of breeders and sheltie owners. 
Dogs with PRA get blind – so as a real breed lover we should all work together for this research to find the DNA for PRA.  When we succeed we just need a blood sample to know if our Sheltie is a PRA-carrier or not. This is what we all work for isn't it?
From the pedigrees of the PRA dogs found in our part of the world (one bred in Norway, four in Finland and eighteen in Sweden) we know the names of some PRA-carriers as both mother and father of a PRA-case are carriers. We know for sure that the PRA came from dogs far back in the pedigrees and that also tells us that this is a problem that concerns all breeders in all countries.´ 
We need your help!
All together the PRA-fund based in the Norwegian Shetland Sheepdog Club at this stage (December 2004) is N kr 700.000 (about Euro 89.608). We are soon coming up to Christmas time. And as it very common to give gifts so we hope all sheltie owners around the world feel that they can be able to bring this research forward by giving money to the PRA-fund. You find the address for this at http://www.nssk.no/PRA/pra.html.´

As world breeders Aud Jorun and Helge Lie have had many successes. Is there anything they still want to achieve or accomplish?  
Aud Jorun and Helge:
'The last years we have not been so active in the show ring since Helge has been judging quite a lot. Talking about the future is looking back first. During all these years we have learned that it is not the most important to win. It is also very important to feel for the breed and be happy if a good sheltie wins! In our opinion it is of great value for a breed that there are different winners at shows. This enables cooperation in the interest of the breed. It is of course great to see a beautiful dog win but perhaps her or his beauty would be even more if he/she doesn't compete at every show. We talk from experience from the years we competed very much with our dogs. It was of course great to win with our top show dogs, but when we realised that other show people didn't like to see our 'Rosco' in the catalogue on each occasion we stopped showing him after the show he won Nordic Winner 84. By that time Rosco was 5 years old. He could have won a lot more but we realised the importance of 'keeping friends' in the breed. We also had other good dogs to show and of course we were proud on shelties we bred ourselves. However, we realised that the most important was to bring the breed forward, so when a dog/bitch only needed a last CC to win at a NKKs show we only took that special dog/bitch only to a NKK Show. To be honest we weren't the only ones who did this. It was quite common for show people at that time.  We can mention that we stick to this during the last 20 years and can mention Kindergate the Joker (N Ch NV96'98'02) imported from England in 1996 – we showed him for the first time at the NKK Int Show Norwegian Winner Show in November 1996 and he won his first CC, BOB, BIG and 3BIS. He became a Champion in August 1997 at his fourth show. Joker is still with us and he is a great personality – Aud Jorun thinks 'he owns her'. The last time we showed him was in august 2002 at an international NKK Show where he won BOB and NV02 title and he also qualified for Crufts at this show.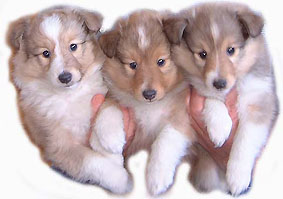 Leeland_puppies2004 - born in May 2004. Photo at 6 weeks - from left Leeland Pride On Isa (BIR,BIG and 2BIS at puppy show 6 months), Leeland Play On Billy (BIR and 3BIG at puppy show 5 months) and Leeland Peace Rose (not shown yet).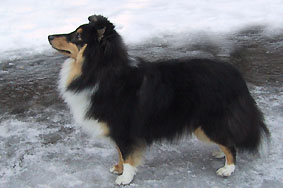 Leeland_Online_With_Charm, CC 2003
The plans for the future are to continue in the right way as we have started on but whát the future brings we'll see. As told we are not so active in the ring anymore but we hope that our son Dag Christer will be interested in showing shelties as we now have the 6 months old Leeland Play On Billy (the 7th bred Leeland) registered on him. Billy has been to an all breed puppy show where he won BOB-puppy and 3BIG-puppy – so fingers crossed.' 

Aud Jorun and Helge Lie - Leeland Shelties Norway 


Thank you Aud Jorun and Helge, for having enabled me to make this lovely world breeders' portrait. Ineke.