---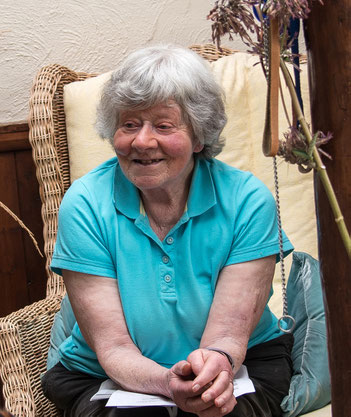 THIS World Breeder:
-         Is 88 years
-         Has more than 60 years experience
-         Still breeds
-         Is a breeder, exhibitor and a judge
-         Owns two breeds, the Sheltie and the Bernese Mountain Dog
-         Emphasizes the importance of soundness, movement, good temperament and health.
Her name is: MARGARET EAVES. Her kennel name is: KYLEBURN .
---
Kyleburn has been one of the most influential kennels in the U.K. They have had a considerable impact on the breed and many shelties today have Kyleburn in their pedigree. Step back in time with me. It's  1939, and Margaret Eaves is ten years old when the Second World War breaks out. 
---
---
At that time Margaret has other concerns than dogs, and shelties she has never heard of. As her father used to breed Barzois (in the 1920's), she may have inherited her love for dogs from him. In the school library she finds a book about how to train and raise dogs. She partly copies the book by hand, as she has no money to buy it and, even if she had, doesn't know where to buy a book like this in war time. She loves to own a dog and gets her way. Spot is a mongrel that is devoted to her and follows her wherever she goes.  
At the early age of seventeen Margaret leaves home and moves to Birmingham, where she combines  her studies to become a librarian with a job in the Birmingham Reference Library. Her sister Mary,  who still lives at home, is captured by the Lassie craze and asks for a collie. Too large, her father declares, and he suggests a sheltie. With the arrival of Shadow, Treales Shadow, a daughter of the famous Ellington Encore (1942, CHE F4), Margarets love for shelties starts and lasts until today, although another, even bigger love, will later capture her heart too. Every weekend she goes to the country, where her family lives, she can only think of one thing: shelties. Around 1947 Margaret enters Shadow for a show. Shadow wins, despite her 16 ½  inches (almost 42 cms), rather gay tail and pricked ears. However, she has something that is rare those days: good temperament.
Shadows first litter, born under the kennel name Deldrac, ends up as a disaster, but in her next litter there are three live puppies. Mary breeds three litters in the U.K., before she leaves for Australia. What the future holds for her, you can read hereunder:
---
Mary Howe, Deldrac Kennels, Australia, October 2017. 

"My first Shetland Sheepdog was called Treals Shadow. She was by Ellington Encore. My sister Margaret showed her for me, then two years later she had her first litter for my Deldrac Prefix. I migrated to Australia in 1966 bringing a Riverhill bitch but unfortunately she never produced a litter. I started breeding with a Kerondi bitch which I did Obedience with and also became an instructor. I also bred and exhibited Welsh ponies which dominated for some years." In later years Mary turned her attention to showing her shelties and titled three dogs: Ch. Deldrac Old Lace, Ch Deldrac Wishes and Dreams and Ch. Deldrac High Society. 
High Society was co-owned with Shalreign Kennels. The highlight of his career was R/up in show at the 7th National of West Australia 2003, under Debbie Pearson. He was also the sire of six Champions. Mary showed until 2004 when she lost her husband Phillip due to ill health. Due to age and health issues Mary has recently retired from breeding and enjoys the companionship of her two older shelties Joy and Lady.

(Thank you, Christine Sydenham, for the short interview with Mary Howe) 
---
Margaret experiences that the sheltie show world mainly comprises of groups of fairly well-off ladies, talking about the dogs of others. It is the time of the large kennels, owning fifty, sixty shelties or more. She finds it difficult to gain access to the sheltie world and looks up to breeders like Beryl and Joan Herberts (Shelert), Felicity and Patience Rogers (Riverhill) and Constance Sangster (kennel Exford). In the post war years the number of entries at shows varies, but definitely increases. The shelties shown differ significantly in size, are often fined boned and have less coat than they have nowadays. In the ring they often cower behind their owners skirts. At that time Margaret considers this temperament normal, but soon she realises that pet owners want to have a more sociable dog and decides to try to improve the temperament.    
Black Belle, daughter from Margarets first litter (Ch Dilhorne Blackcap x Black Tulip of Melvaig)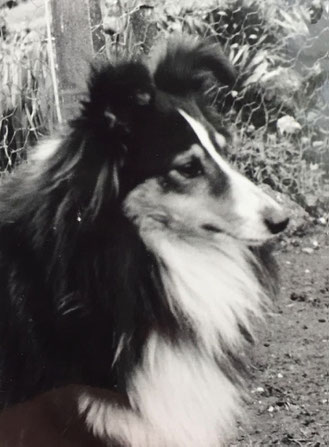 ---
In 1957, short after Margaret gives birth to her first son (Margaret will get another son and a daughter, and later three grandchildren), Margaret buys her first sheltie. It is Black Tulip of Melvaig, a daughter of Ch Heatherisle Rufus and Ch Honeybrunch of Melvaig. She pays 20 guineas for  the bitch (a guinea was about 5% more than one pound), a small fortune for her. Unfortunately, she turns out too big and has pricked ears, but Margaret is glad that the bitch is not afraid of her own shadow. For her first litter she chooses Ch Dilhorne Blackcap as a sire. In those days there is not a great number of stud dogs to choose from. The war has strongly decreased the population (in 1951 there were 788 registrations at the Kennelclub. In 1972, registrations had jumped to 5,800. Info from 'The New Shetland Sheepdog' by Maxwell Riddle) and many dogs are monorchid. It takes many years before a list of entire stud dogs will be published. At the moment her first litter is about to be   born, Margaret hasn't a kennel name yet and therefore she names the beautiful tricolour bitch from the litter Black Belle. She feels honoured that Cynthia Charlesworth of kennel Dilhorne wants to buy Black Belle, however she wants to keep the bitch herself, to breed from her.
Margaret applies for the prefix Kyleburn. Kyle comes from the Scottish region Kyles of Bute and Burn is a stream. 'It should actually be Kylebern,' Margaret adds with a wink, referring to the breed, she would later add to her kennel.   
Due to personal circumstances Black Belle is shown too little to become a champion. Margaret thinks she is beautiful, but she is not the best brood bitch. She has complicated births and small litters. Her daughter Kyleburn Coppelia, however, appears to be a good brood bitch and stands on the threshold of the great achievements of Kyleburn. It all starts with the combination Ch Antoc Sealodge Spotlight x Kyleburn Coppelia (1962, BB F9, daughter from Black Belle and Oastwood Unique (1959, BB F9, to a large extent based on Riverhill/Helensdale lines).
---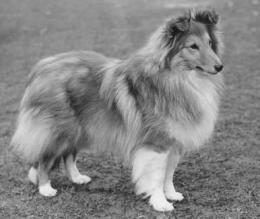 ---
When the litter is born, Margaret has just had a baby. That's why her friend Rose Wilbraham from kennel Midnitesun, who lives nearby, helps her to give birth to and raise the litter. They divide the litter, and with the pups of this litter a very successful period for both kennels starts.  Margaret keeps a.o. Kyleburn Cressida and Rose continues with Kyleburn Mignonette. A famous grandson of Kyleburn Mignonette (both sire and dam line) is Ch Midnitesun Justin Time (1973).
From that moment on both kennels use different stud dogs. Margaret chooses Loughrigg Concert Master and Rose uses the father of this dog, Ch Trumpeter of Tooneytown. Although they try, using 'each others' stud dogs this does not come up to expectations, although they are father and son. 
Margaret sets herself a clear goal: she wants to win in the ring with shelties that she considers to be good representatives of the breed: very well constructed, sound, healthy, good type and temperament. From her husband, the man she would later divorce, she gets little support. The shelties bark at him and distrust him so they tend to live at a distance so as not to disturb the quiet he needs for himself.
Margaret tries several combinations to see what it brings. She finds out that it is important for dogs to have as much quality as possible in the bloodlines behind them and hopefully to come from litters which are overall of decent quality rather than those containing one super pup among a lot of fairly rubbishy ones. In the early days she mainly relies on line breeding to produce constant quality. Nowadays due to further research she tries not to breed so closely as this can lead to more health problems and perhaps, for example, smaller litters.
Margaret:  'It might give you a top winner, but it is not good for the breed in the longer term.' 
---
---
Ch Kyleburn Golden Eagle, Ch Kyleburn Penny Royal and Ch Lilt of Kyleburn 
Margarets first champion is Kyleburn Golden Eagle (1970, BB F9), a greatgrandson of Black Belle. It costs her much time to make this dog a champion, for he doesn't want to show himself. In the ring he looks bored. Fortunately a photographer is able to take a good picture of him while they are in the field and Margaret bangs car doors pretending she leaves. Golden Eagle moves like a dream. He becomes the number one studdog in the country for a couple of years, a position taken over by his son. Margaret thinks Kyleburn Athena (1973, BB F9) the best sheltie she has ever bred. This  tricolor bitch is a greatgranddaughter of Black Belle. She became BIS at the Club Show of the English Shetland Sheepdog Club. One champion is Ch Adonis of Kyleburn, son of Ch. Shelert 's Sinbad the Sailor x Kyleburn Rhea (Kyleburn Golden Eagle x Athena). He would leave for Norway. Ch Kyleburn Penny Royal (1974) is a tricolour daughter of  Kyleburn Golden Eagle x Kyleburn Caroline, and a greatgranddaughter of Black Belle too. Other Kyleburn champions are: Ch Kyleburn Quo-Vadis (1973, with Ch Antoc Sealodge Spotlight both on fathers as well as on mothers site in the pedigree, Ch Kyleburn Star Sound (1974), Ch Laiderette of Kyleburn (1975), Ch Kyleburn Wild Thyme (1976), Italian Ch Kyleburn Oregano, a son of Ch Kyleburn Penny Royal, Ch Kyleburn Razzle Dazzle (1979), Ch Kyleburn Good Time Girl (1981), Ch Lilt of Kyleburn (1983).  
---
---
Margarets successes in the U.K. and abroad don't remain unnoticed. Margaret Norman of kennel Francehill writes in her book The Complete Shetland Sheepdog about Margaret Eaves: The Kyleburn Prefix was formed by Mrs Eaves and it was soon apparent what a talented breeder she was, breeding many Champions, the first being Ch. Kyleburn Golden Eagle. I was a great admirer of this dog, in fact giving him his first CC. He features behind many of today's winners. There is also interest from abroad for shelties bred by Margaret. Aud Jorun and Helge Lee from kennel Leeland (Norway) imported two Kyleburn dogs: Ch Adonis of Kyleburn, named Ajax, in 1984 and Ch Bananarama of Kyleburn (1987), called Sweep, in 1988. Sweep is a greatgrandson of Ch Adonis of Kyleburn. The most recent export is Kyleburn Ilia, born in 2010. This daughter of CH Stevlyn Coppersmith at Malaroc JW and Kyleburn Eurydice now lives in Austria.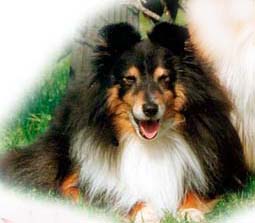 ---
---
After many successful years, in 1980, a change occurs. It all begins with a message from the English Shetland Sheepdog Club. Margaret is duly concerned with the health of the breed and reads that CEA is a serious problem in the breed. Almost 80% of all shelties is affected. She has her shelties tested and  is informed that almost all her shelties are not clear. Then she has to face a dilemma: ignore the problem, use genetic clear dogs only (at that time there are only 12 dogs tested CEA genetic clear) or aim to breed CEA clear shelties by using carriers and select not affected ones. Margaret decides for the last option, although she realizes that it will take her years to achieve her goal. Of course she resents the idea of starting all over again - as she can only breed with non affected shelties, consequently she will lose quality -  but a healthy breed is top priority for her.
Margaret: 'I never completely stopped breeding shelties – I just gave up sharing as my quality of dogs produced had dropped so drastically, due to concentrating on getting rid of CEA in my stock. I only kept two shelties when I moved house as by then I had Bernese (from 1982) and no permanent home. After my final move almost decided to give them up but could not quite do it, and instead concentrated on trying to breed quality combined with freedom from health defects and a temperament to suit their new role as mainly companions, without losing their overall balance and ability to be active all day if needed.'
 
It will take her almost twenty years to have her stock CEA clear and back at the level she used to breed. Health remains priority number one in the years to follow, although you cannot always control nature. Margaret is one of the first breeders too who has her dogs tested on HD. She campaigns to test both dogs and bitches, as both are equally responsible. 'Not testing is burying our heads in the sand,' she says, 'but the costs are high and testing can only be done when there is some cash available.'
---
---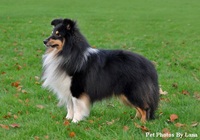 Kyleburn Titan is Margarets first champion after the 'restart' of her kennel, as a result of her decision to aim for CEA-clear dogs. This tri color dog, born in 2005, is a son of Mohnesee Mr. Palmer and Kyleburn Aurora. Amos, as he is called, goes back via Kyleburn Golden Eagle to Kyleburn Coppelia, the bitch that stood at the threshold of the successes of Kyleburn. He is not often used as a stud dog, but has a champions daughter: the tri color bitch Ch Myter Eye to Eye ( Ch Kyleburn Titan x Myter Apple of My Eye). I was so happy to have used Amos for Kiara and had a litter of six. In 2015 Amos tragically dies. Some young people are joyriding in a park and ride area and Amos is dragged by the car. Another regular winner is the sable dog Kyleburn Acis, born in 2008. He has the same grandmother as Amos, Kerncarn Crewenna of Kyleburn. Kyleburn Titan was and Kyleburn Acis is owned by Jeannie Pattinson, a friend of Margaret. Jeannie just bought another Kyleburn, Romulus, a tri puppy by Mastermind at Shelridge and Kyleburn Phoebe, who qualifies for Crufts on the day he is 6 months old. Jeannes first Kyleburn was Kyleburn Ladybird.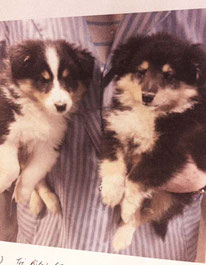 Puppies from the recent Kyleburn Litter – Mastermind at Shelridge x Kyleburn Phoebe – at 7 ½ weeks old. The puppy on the left is the dog Jeannie kept, the bitch on the right stays with Margaret.
Margaret loves to walk her dogs. In the mid-1980s she starts walking groups and continues organizing those groups until she is well into her eighties. Margaret: 'Walking keeps you fit and mentally healthy.'
Other hobbies she has are ballet and dancing, especially Scottish country dancing. She loves nature and is committed  to environmental issues.
Since Margaret was a child, she wanted a larger dog, but her father didn't allow her to have one. Now she has the opportunity, she buys a Bearded Collie. However, she doesn't like the temperament and decides for a Irish Wolfhound. Though this dog has a lovely temperament, she finds this breed not as smart as the shelties. Finally, in the eighties, she finds the breed, she will even more love than the shelties: Bernese Mountaindogs. Breeding and showing Bernese also brings her to the top and she breeds a number of champions. Margaret thinks the best Bernese she ever bred is Kyleburn Nightsong. 
---
---
When Margaret starts breeding she sets herself a clear goal:  'Shelties must be well constructed and be able to perform actively throughout the day, even as a pet. No part should be out of proportion. To focus on a lovely head and compromise on construction won't help.' She thinks shelties should have more bone than she sees in the ring, and looks for health and temperament. Usually Margaret chooses the puppies she wants to run on at eight weeks. By then she can guess size, judge overall shape and notice short hocks and length of tail. Heads change. Margaret doesn't want an overlong, broad or overdeep skull. However, shelties are a very difficult breed to sort out. Teeth, growth and coat can lead to unwanted surprises.
One might recognize shelties by their type, such as Lythwood, Rannerdale. On the question by which you can recognize a Kyleburn, Margaret calls for Daisy, Kyleburn Daydreamer: 'Look at her. This is a typical Kyleburn. A well constructed bitch and a great mover. She has a lovely outline, a coat that fits the body, good bone. On the critical, yes, she is a bit too big but she is my type. Lovely. The only 'minus' point is that she is sable instead of tricolour,' she adds with a wink, referring to her preference for tri's.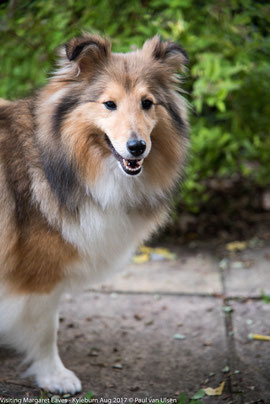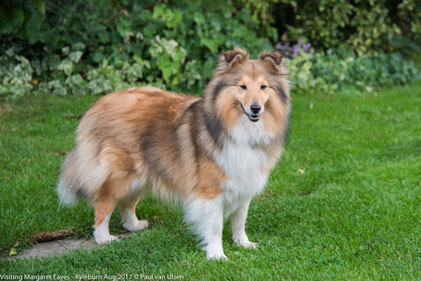 Daisy, Kyleburn Daydreamer
---
---
When Margaret starts as a breeder she realises that it will take her lots of time to settle in the sheltie scene and that she has to win shows to become part of it. Compared to decades later showmanship isn't that important and campaigning your dogs is not relevant yet. She enters to win: 'You wish others to find your dogs fantastic. It's human nature, we like to be the best. Whether we paint a picture, write an essay or breed and show, we hope people enjoy it. However, it's our hobby, we are doing this for us, not for the dogs, so the dogs must be happy.'
Nowadays Margaret doesn't often visit shows but if she does, her main reason is to find dogs, that can possibly contribute to her breeding programme.  
---
---
Margaret does not aspire to become a judge, but let herself be talked into it. She remembers how nervous she was the first time in the ring. Margaret judged Shetland Sheepdogs as well as Bernese Mountaindogs for quite a long time and judged a.o. in Finland and Australia. Margaret: 'For shelties I like some grace, elegance, overall balance and soundness. These points are important to me. I don't tolerate bad constructions. Heads have to fit with the body. It is no good having one part particularly good. Small faults I can live with are slight oversize, as long as it is not too much, slight shortness of tail and some missing teeth (to a maximum of two). Sometimes you end up with three quality dogs and on other days you make other choices. You have got to accept it. Just what catches your eye. Every show is different.'
Last year Margaret was asked to judge once more. She answered: 'You really want someone of 89 to judge?' They didn't reply to this.
In 1992 Margaret was asked by the Finnish Shetland Sheepdog Club to judge their championship show near Tampere. I quote from her report: The Best in Show however came from my intermediate class - a lovely 21 months old blue who stole my heart the moment she entered the ring for her initial assessment. I later found out she was an English import named Reubicia Bluella, full sister of Ch Reubicia Blue Flame of Ruscombe. My memory of her is of a superbly built bitch. Looking at her photo in front of me she could be my own Berryclose Garth of Kyleburn in head, poise and showmanship, and general type, just in a different colour. No wonder I liked her, and could find nothing to beat her.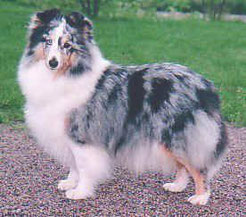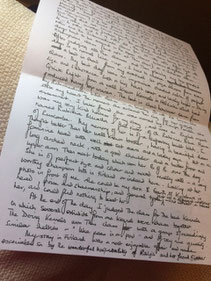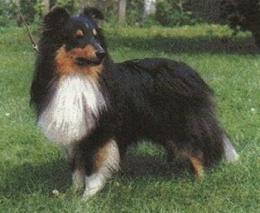 ---
---
Ch Rannerdale Bugsy Malone (photo by Lana, NCSSC), Stanydale Shot in the Dark (photo by Lana, ESSC), Lafitte de Moorstile Chez Shelridge (photo by Lana, C. Aaron), Ch Shemist Black Wizard (photo by Lana, ESSC).
---
---
Shelties today that catched her eye are Rannerdale Bugsy Malone, Stanydale Shot In The Dark, Lafitte De Moorstile Chez Shelridge and Shemist Black Wizzard.
Margaret thinks a change for the better has been the improved temperament of shelties nowadays. Something to pay attention to is the huge amount of coat some shelties have now. Margaret: ´Coats should fit the body and not be too big to impede working ability.´
She is far from happy with the emphasis on showmanship and markings and the current tendency to campaign dogs, a.o. on Facebook, and the increasing number of US shelties and mixes. Margaret: 'I don't like it, although I have seen some nice ones. Most of the ones I have seen are too coarse, too strong in head for me. They go for coat and flashiness, to me those are not necessary things in shelties. I like graceful and elegant. But with those strong underjaws, the expression has gone. It is not a tapered head, strong back skull, ears are set wrongly, too strong all over. They all go back to the same stock: Chestnut lines. We have most of the Butcher Boy line. Please remember that the original sheltie was a very mixed mongrel. It was not a pure bred dog, but a mixture of what was available. The breed started to split a long time ago with the exports to US and there they followed their own line. I am in favour of splitting the breed. Yes, I would do this. American shelties are not wrong, but not as our standard says.'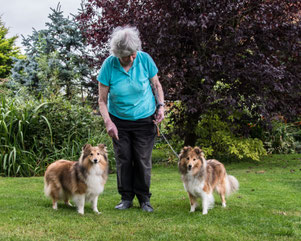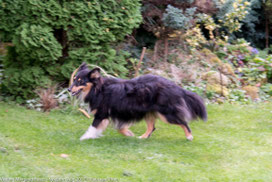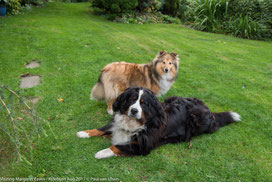 Right now Margaret owns five shelties and a Bernese. Looking back at more than sixty years showing and breeding she says: 'I enjoyed having my dogs. Sometimes it was a battle, p.a. with CEA, but I remembered my goals and said to myself: keep going, don't give up and you get there in the end.'
To newcomers she advises: 'Feel. Run your hands over as many dogs as you can, both pets and show dogs. Try to get the owners to tell you how they behave, how they move and see what will fill your eye. Look for shape, movement, temperament. Read handbooks, look at the shelties in them.  Listen to others, but do not be influenced too much by what others say.' 
Margarets hopes and wishes for the future of the breed: 'Get rid of the emphasis on showmanship, coat and markings. It comes from America. I don't like it, however I think it is going to stay. Look for soundness and construction. And at last: enjoy your dogs. Make the most of them. We are lucky to have them.'   
---
A big thanks to Margaret Eaves, Jeannie Pattinson and everyone who contributed to this article. In particular I would like to thank Jasper and Paul van Ulsen for visiting Margaret Eaves, Jasper for doing the interview and Paul for the photos. 
January, 2018, Ineke Fritz