Two renowned, international respected top breeders/judges agreed in answering 2008 questions. A warm welcome and a big thanks to Mrs Dina Korna from kennel Scandyline in Estonia and Mr Malcolm Hart from kennel Hartmere in the U.K.
---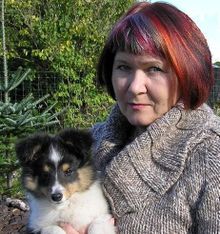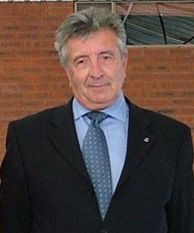 ---
How would you like to introduce yourself?
---
Dina Korna, Scandyline Shelties.
I have been involved with dogs long before I bought my first Sheltie. I was 10 when I started to train and later to show dogs for other people. In 1970 finally I got my very first own dog - it was Rough Collie bitch. In the mid 70ties I started to judge Collies and Russian national breeds. At that time I saw a sheltie for the first time. It was love at first sight, but it took years until I got my first Sheltie. Hossa Stanica Marwita came from Poland. Although oversized, she was well built and had lovely temperament. She was my Sheltie foundation bitch. My other hobbies: gardening, long walks in the forest, travelling, when it is possible and I am collecting everything with butterflies!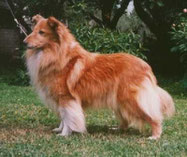 Malcolm Hart, Hartmere Shelties. I started in the breed in 1967.
I live in the edge of a tiny hamlet with a name which is bigger than itself! Potterhanworth Booths is about 9 miles from ancient Lincoln which has one of the most beautiful Cathedrals in England. I have moved here in 2000 from my Native Lake District in Cumbria - which borders Scotland. The kennel name Hartmere was second choice. Shundraw was first choice and not accepted - and derives from beautiful in very ancient Norse. So Hart because it is my surname - and mere because the lake District is filled with small meres - or lakes as most people would term them. I live with my second wife Chrissie and I have a son from my first marriage, Neil, of whom I am very proud. He lives and works in London - but he is a frequent visitor here.
My other hobbies: I am a passionate historian with an equally large interest in archaeology and I read voraciously and paint ... oh and much to my wifes regret - I like to watch a lot of sport on TV!!!
---
How many shelties do you have at the moment and who are your young hopefuls?
---
At the moment I have 12 shelties and my young hopefuls are Scandyline Golden Guardian, Scandyline Black Gem, Topstail Lucky Star, Sunsweet Black Night and Lucky Starline Miss Camellia.

Guardian allready started his show career by winning BOB-puppy and 2nd Best puppy of the day at European Dog Show in Zagreb' 07.

Guardian and Gem still need to mature, they are one year old now, but two younger ones are in the stage of growth. The future will show, if my hopes will come true!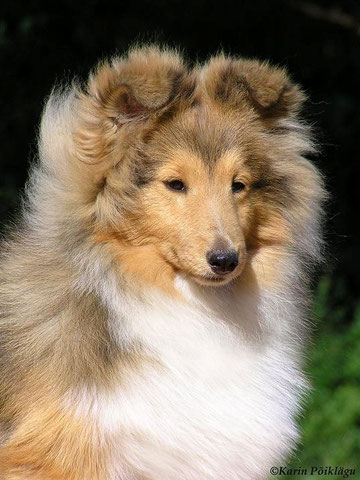 Scandyline Golden Guardian
I live here with 6 and one quarter ( a puppy) shelties. Here presently are: Ch Hartmere Hallmarked, now 10 and a former Sheltie Puppy of the year and Sheltie veteran of the year. He won the res CC at Crufts at almost 8 years.
His full younger sister aged 7 Ch Hartmere Hold the Dream, who was both Sheltie Puppy of the Year and Sheltie of the year and BOB  at Crufts 2003 and Bitch CC winner at Crufts 2005.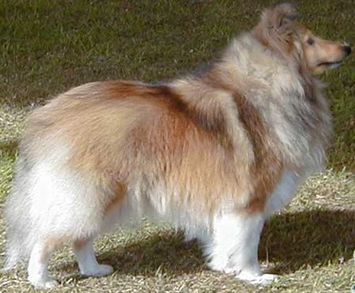 Elanmore Highlander, a son of Hallmarked, aged 7, who was shown with some success as a youngster.
I also have another lovely son of Hallmarked, who never became entire!
Hartmere Hidden Dream - many times best Puppy in Breed and her litter sister Hartmere Highland Dream, also a winner but often in the shadow of her sister.
And an 11  week Puppy who is from the third sister in the litter Hartmere Hint of Gold at Japaro.
---
From what lines do your shelties descend?
---
Today my shelties mostly come from the BB line, but I have some descendents from the CHE line as well.
Mostly Riverhill - but with a significant amount of Helensdale and some Exford lines.
---
What do you especially like in those lines?
---
Sorry, if my opinion is not right - it is based mostly on photos taken from books and Handbooks- but I have the feeling  that the BB line was stronger in head and expression, and the CHE line had better angulated bodies. Nowadays, now both lines are so much mixed, there are many representatives of the BB line with excellent bodies and angulation and beautiful heads and lovely expressions are no rarity in shelties of the CHE line.
These lines combined fulfil my expectation in head qualities shape and soundness. 
---
Can you mention three of your favourite shelties from the past? 
---
There are much more then three...but if I have to name only three... Ch Jenny Wren Of Crawleyridge, Ch Pepperhill Blue Fizz and Ch Sandpiper of Sharval.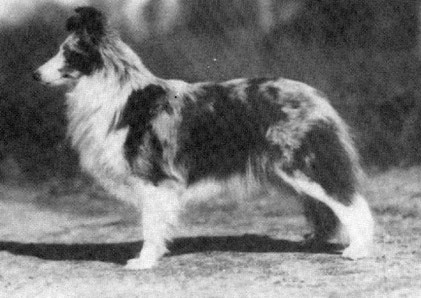 Ch Jenny Wren Of Crawleyridge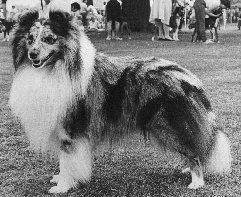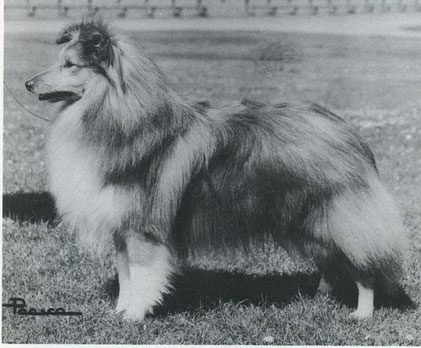 Difficult question because there so many dogs from the past I admired greatly but if you twisted my arm – then of those I actually saw in the flesh – Ch Greensands Gangsters Moll at Monkswood, a lovely tri bitch of sheer quality, whose perfect balance enthralled me; Ch Riverhill Raider, an old dog when I used to see him regularly, who still had the most stunning outline, perfectly fitting coat of good length and a head the standard could have been written for – and his son Ch Monkswood Moss Trooper, a coppery coloured sable with shawl collar, who inherited his sire's lovely outline – coat properties and head but if anything his head had an even more defined touch of class than his sire's head. I could never take my eyes from him in the ring- and had he been a more willing showman – I do believe he would have had all the attributes to be a Crufts Best In Show winner.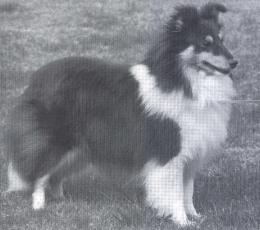 Ch Greensands Gangsters Moll at Monkswood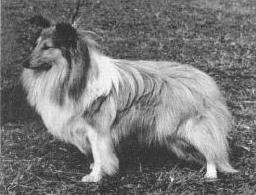 Ch Riverhill Raider (1965)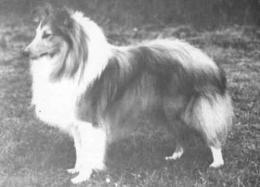 Ch Monkswood Moss Trooper (1970)
---
Who were your mentors when you entered the sheltie scene?
---
It was Mlada Svobodova (kennel "z Dablovy Studanky") from Czech Republic. She opened the door to the Sheltie world for me.
Felicity and Patience Rogers from Riverhill Shelties.
---
What was your first show experience?
---
As I already told, I started to show dogs as a teenage girl. The first dog I showed was a boxer! This start was very successful, as this dog was second in a very big class! So, when I started to show my shelties, I already was a quite experienced handler! 
I learned to handle by showing a friend's sheltie at the small Open Shows held locally. But at my first Championship Show handling my own dog it was a wet day and I stood in the doorway of the benching tent waiting for my class only to discover on emerging into the rain that it was in fact MY class I had been watching!! Hardly an auspicious start to a career – but a mistake I have never again made!
---
How about your first litter?
---
My first Sheltie litter was born 13.02.89. The sire of this litter was Cassius Wlci Zleb, a Czechish bred dog,  who lived in Poland and dam was Hossa Stanica Marwita. Before mating I asked questions about how Shelties deliver, how big litters usually have, etc. I was told that they are 'normal' dogs in all aspects and usually have 3-5 puppies. Can you imagine my surprise when I got 10 puppies in my first litter!!!
My first litter can be described only as a disaster! Two males neither of whom had any testicles descended and a pretty bitch who was given back to the breeder of the dam, the late and very lamented  Phyl Pierce of Philhope shelties – simply the kindest person I ever knew – who allowed  someone to borrow the pup to help with the loss of her pet sheltie who had died suddenly. The pup of course was never returned and Phyl was too kind and caring to demand her return.
---
Who was your first own bred champion and was she/he already the type you aimed for?
---
My first own bred Champion was Est & Lv Ch Scandyline (Lucky Star) Little Colleen by Est Ch Gangster z Dablovy out of Hossa Stanica Marwita and first Int Ch was Scandyline Little Windsong (Ch Scandyline (Lucky Star) Little Gentleman x Scandyline Qui Vive.
Ch Hartmere Harris Tweed (photo) – who was so like Ch Riverhill Raider – who appeared many times in his pedigree.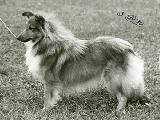 She was a bitch of correct size ,well built, good mover, but her head quality could be improved.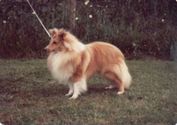 Yes he was – I was most fortunate. He had the grace and elegant outline I admire so much and a well balanced head with the flattest of skulls and whilst colour is not too important to me - providing it meets the standard's requirements – he was a pure golden sable. He became a Champion before he was 2 years and I never heavily campaign Champions even now – but then it was considered a crime – so Tweed never appeared in the ring when he was actually at his very peak. But I did show him once more at The SSC of Wales show where he won the res. CC at almost 10. I still miss him daily.
---
The best sheltie you have ever bred ...
---
I hope I haven't bred my best Sheltie yet!!! From tose, who already are, it was INT&BALT&FIN&RUS CH WW-00, EUW-00 Scandyline Indian Summer.
Such a difficult question – and if I could cut off pieces of all the Champions I have owned and reassemble them into one dog – then I would be a happy man.
---
As a breeder you work with the heritage of breeders before you and you add your own knowledge and experience in new generations of shelties. What is important for you to pass on in your shelties to future generations?  
---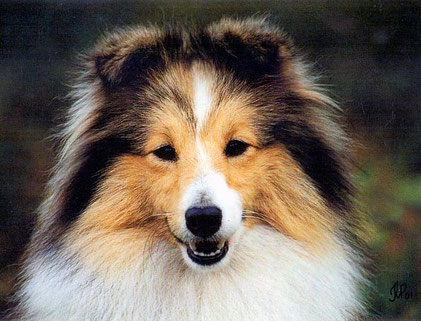 INT&BALT&FIN&RUS CH WW-00, EUW-00
Ch Scandyline Indian Summer
I am  trying to breed as close to the breed Standard as possible. I just hope that some of my Shelties will be remembered for being beautiful and correct animals and not for the reason that it was possible to study all faults, described in the Standard.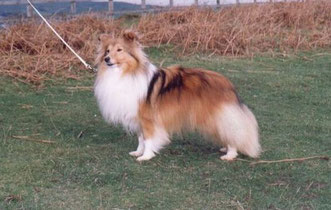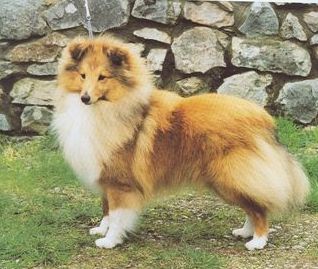 Tweed together with the bitch Ch Hartmere Hello Gorgeous (photo above) had almost everything which please me in a sheltie including a very special personality. But I think Ch Hartmere Hallmarked and his full sister Ch Hartmere Hold The Dream are very worthy modern day successors to those two.
---
How would you describe the sheltie scene in your country (popularity of the breed, increasing/decreasing number of shelties/breeders, dedication, show scene etc.)?
---
When I started breeding Shelties, this breed was almost unknown in the USSR (Estonia was part of the USSR then). Very popular at that time were Rough Collies. As my Collies were quite famous, many Collie breeders followed me in breeding shelties when I started. After some years, when it became obvious that Sheltie breeding is not so simple, most of them stopped breeding Shelties. I bred under the prefix "Lucky Star" until Estonia joined the FCI, and I had to change my kennel name to "Scandyline". For years now we have in Estonia two Sheltie kennels with 10 -15 dogs and few with 3- 5 dogs. This amount is more or less the same for the last 8-10 years. We have 7-10 sheltie litters in Estonia per year.
Two bitches who have had some influence on development of breed in the USSR are Scandyline (Lucky Star ) Little Affair (foundation bitch of the White Coastal kennels in Estonia) and Est Ch Scandyline (Lucky Star) Little Aster.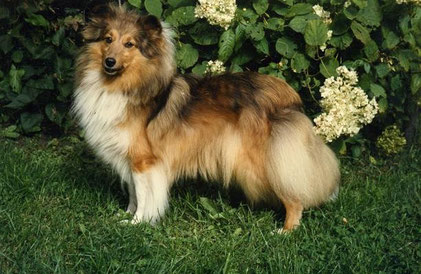 Sheltie registrations and entries have  indeed declined since the seventies when – I think – Shelties reached the dizzy heights of No 5 most popular dog, (secretly I am very pleased about this!!).

I wish that shows were more the relaxed affairs they used to be! In those far off days I remember much more laughter and genuine pleasure when others won and you didn't – and there was a genuine feeling that with the exception of just one or two people who were perhaps difficult to have a full friendship with - everyone  else seemed much more united than they do now. There is no doubt that shelties now consistently achieve much higher Group awards than in those times but I think that the KC decision to divide the Working group into two groups Pastoral and Working has helped in this!!
---
When I say 'sheltie', what's the first word/virtue etc. that comes up (and perhaps the second, and the third etc.)?
Each sheltie has virtues and faults. Of course you consider the sheltie as a whole, but what are important points for you that disturb the ideal picture?
---
Beautiful and smart.
For me very import6ant is outlook of the dog and balance. But I can easely forgive some missing teeth or bigger blak spots on blue-merles unless the blue is really silvery blue and black is really black.

Charm.
Balance or lack of it to be more precise disturbs my appreciation. If the component parts of the head are not in perfect proportion and balance - the unique expression the breed is noted for - is lost and  lack of balance in body denotes faulty construction which never results in the true movement – covering the maximum amount of ground with the minimum of effort. And of course too much coat which hides the outline of the dog gives  an overall visually unbalanced look.
---
As an international judge you judge in several countries. Can you see slight differences between shelties in different countries?
---
Yes, I really see the difference between shelties in different countries. There are countries where you can see lovely heads and huge coat but nothing under it, in some countries body construction is more or less good, but dogs need some charm - they are just good dogs...
Sometimes the differences I see in shelties between different countries are rather more than just slight!! But yes I do – and I don't find this surprising as Shelties are not the easiest of breeds in which to retain uniformity – and I see differences in type within my own country too!
---
Do you think judges can have influence on the breed and if so, in what way(s)?
---
If the judges will judge ONLY according the breed Standard and will put up only those Shelties who REALLY fit the Standard.
A resounding YES to this question! In fact arguably many people believe judges change breeds rather more than breeders do! If a dog wins – then many will use him at stud. If a dog never wins, few will use that dog at stud on their bitches. It follows therefore that judges have huge responsibility in their decision making. And if an untypical or unworthy dog wins a lot then I feel we have the judges inability to know well and be able to apply the standard  to thank for this – rather than proposing changes to our standard which has served us well since 1987! After all if judges cannot apply the existing standard – they are g hardly likely to fair better with a new standard!
---
What do you think can help/is necessary to educate new breeders/judges?
---
First of all I think that it is possible to educate only those new breeders, who want to learn something. Discussions on different topics and practical lessons are very useful.

Our country is very small and we don't have so many judges who are authorized to judge Shelties. We have had practical lessons with many of them, as I usually have about 12-15 Shelties at home and they all have their good points and bad as well. I am always telling and showing what is correct, what could be improved and what I don't like at all.. .and, of course, we are looking through "millions" of photos, Handbooks, videos.
WE have a saying in UK "You can lead a horse to water– but you cannot make him drink!!" For many years now we have had a very good and comprehensive training  scheme – and many competent lecturers to present the training. I know I am not alone in wishing that the 'message' had been more readily received by some prospective – and it has to be said already established Judges.

I sometimes have the idea that newcomers have to prove themselves first before they are taken serious in their efforts to learn more about the breed. They often need years of experience and numbers of shows judged to attend the best and most detailed lectures. By that time they have already formed their opinion from others - whose opinions may not be correct! It might be an idea to train complete novices at an earlier stage in their time with the breed than they are now – and I think it's up to us to show that we are true ambassadors of the breed for everyone who is interested in that breed, perhaps to start with a warm welcome to all visitors around the ring.
---
Now that we have the internet/email and with that far more ways of communication, do you think international cooperation can be helpful in the interest of the breed?
---
Of course international cooperation is very helpful. I believe that it is possible to keep the UK type Shelties only if we will stick all together. Maybe it could be interesting to make a booklet on the breed standard with comments and lots of photos, showing every part of the sheltie, how it looks, and whether it is correct or not. And talking to everyone who want to listen. At least I am acting like this and I can proudly say that we have ONLY UK type shelties in Estonia, Latvia and Russia.
I think All cooperation is vital for the future of the breed – and I wish the internet had been invented 30 years before it was – I am convinced that perceived differences in the breed in different countries would not be as apparent – if we had ALL been talking together much earlier. I still hope it is not too late for this to happen. But one thing is certain – it will never happen until we all decide that confrontation and impoliteness will never win any converts!
---
Your top 3 of shelties in the year 2007 is ...
---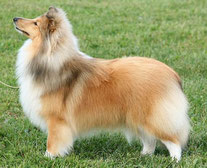 My judging appointment at Crufts next March has meant that out of choice – I have only attended 4 shows this past year and I have not read any show reports in this time either. Not because I fear influence in my decision making on the day – anyone who knows me well will say that is impossible!! But because I want to go into assignment with a completely fresh and clear mind. Ask me after Crufts has ended!!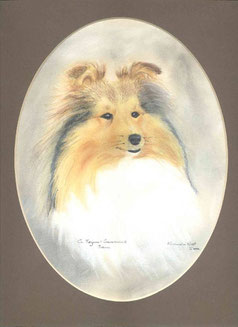 ---
What do you think will be the consequences of the inbreed of American shelties in the UK type?
---
Consequences will be tragic. I have seen how Shelties have changed in Poland, I see what is happening now in Finland. Shelties are changing. Sometimes I want to ask if this what I see really is  the Sheltie...
Interesting question – because I always wonder what I will get when I breed outside of my established line with another UK line!! Over recent years I have seen (photos of) many dogs I like – and I have been bombarded too with photos of dogs who I would not like to use – also from progeny of NA dogs which perhaps do not 'fill my eye'! But I have not seen ALL of the progeny produced by imports so I wonder if selection of pups is the key in this. Certainly some of our most respected judges have given high awards in Scandinavia – I think Europe and definitely in Australia to dogs with at least one  North American parent- so who I am I to argue with their decision  making?!!
---
Beauty is in the eyes of the beholder. Do you think the beholder adjusts his definition of beauty according to what he or she sees? In other words, will people not get used to and get to like the shelties they see, even if they are not quite the type that the old time breeders aimed for?   
---
Yes, it is possible. All breeders are aiming for the IDEAL Sheltie, doesn't matter in the past or today. The ideal Sheltie is that one, which ABSOLUTELY answers all requirements of the Standard. No one has bred the ideal yet and there are not two absolutely identic dogs. And the way how we see the dogs as well can't be absolutely identic. It is very important to see the faults of own dogs, not only the virtues and the virtues of other breeders dogs and not only the faults!
Definitely a yes to this question. I would encourage all to spend a night by the fireside with the ESSC handbooks and to really study the dogs of yesteryear who were thought in their time – to be ideal – and to observe the changes which have taken place – which seem never to be remarked on with present day dogs.
---
Looking at the future of the breed, can you please give us your vision?
---
I am sure the UKtype shelties and NA Shelties will be devided in two breeds like Cocker and American Cocker, German Shepherd and East European Shepherd, Akita and American Akita...

May be it will not happen in the nearest future, but it will happen!
I have so many visions for the breed – I don't know where to start! But I will give my hopes for the continuing future for the breed !! I hope that a test for Coloboma and PRA will be found which will result in their eradication WITHOUT further reduction of the already small gene pool. And that we understand more about HD and are able to use the knowledge wisely. I hope for accord rather than discord within the breed recognising that a kind word and understanding that not everyone MUST think exactly alike  is more productive than harsh words and radical action.
---
Talking about shelties is a never ending passion. What's your favourite subject to talk about? 
---
Absolutely all subjects concerned THE SHELTIE !!!
No secret that I am a dedicated breed historian! So that topic is very close to my heart and I could bore anyone to death about this topic!! But I also enjoy expanding the past into talking with trusted friends about the personalities we had in the breed and the great and perhaps the not so great dogs of the past in a not so clinical and serious  way.
---
What's your motto for life?
---
Clever men learn from other men's mistakes, stupid from their own.
Oh there are many – some I wouldn't dare to write here! But I suppose since my two brushes with a premature termination of my life in recent years perhaps "Live for today" is the most apt followed by "Enjoy health and happiness with those who are important to you – whether they have two legs or four legs"!
---
What are your plans for the upcoming year?
---
To have some litters, to attend some shows (some as a judge and some as an exhibitor), to meet some old friends and to make some new and, most of all, to say hallo to my third grandchild who will arrive to this world very very soon...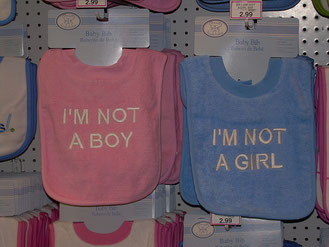 To enjoy showing Ch Hold The Dream's daughter Hidden Dream again and to hope that my 9 week puppy is good enough to also show are my principal plans.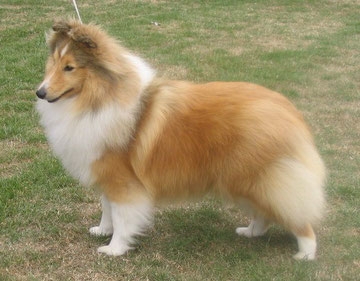 ---
This question is yours. What question I didn't ask would you like to answer and please do so?
---
It is about my family. I would like to say a very big thank you to my husband Sergei for supporting all my crazy ideas and ventures, and I am happy to have the daughter Ieva, who continue what I started 35 years ago.
Finally - to all Sheltie lovers/ breeders - I WISH ALL YOUR DREAMS COME TRUE !!! Happy and peaceful New year to everyone! 
I think your well thought out questions have  been most comprehensive. But in light heated vein – If you had asked 'what do I think of exhibitors running with their dogs in the ring' I would have said 'I would wish they would realise that the standard implies that movement should be judged at brisk trot – that is the dogs trotting briskly  – not the handlers! And that as an ex handler of GSD I know that extra speed does not hide faulty movement from a competent judge!!'
I think the traditional wish for this season is apt "Peace to all men of good will" with perhaps an added "I hope all you wish for which is reasonable is fulfilled".
---
---